The 30-share barometer closed at 18,670.34 on November 12, 2012, the last trading day of Samvat 2068. Reuters
Investors became richer by Rs 8,19,804 crore in Samvat 2069, aided by a hefty 13.5 per cent gains notched by benchmark
BSE Sensex
during the Hindu calender year.
The 30-share barometer closed at 18,670.34 on November 12, 2012, the last trading day of Samvat 2068.
The blue-chip index today settled at an all-time closing high of 21,196.81, up 32.29 points or 0.15 per cent.
After gaining 594.24 points in the last three trading sessions, the Sensex today hit a new intra-day high of 21,293.88. The previous intra-day peak of 21,206.77 was set on January 10, 2008.
The Sensex made an impressive gain of 2,526.47 points or 13.53 per cent from the closing of last Samvat 2068 (November 12, 2012).
In the process, the total investor wealth swelled by Rs 8,19,804 crore to Rs 68,78,061 crore.
"Sensex hitting a new high is warranted. Q2 earnings are better-than-expected, good rains will push our farm income, and the US has decided to hold off on QE until next year," said Shrinivas Viswanath, Cofounder RKSV.
He further added that "Although FIIs are on buying spree, the rupee continues to remain weak. This shows that there is still room for improvement and the market is awaiting to see how inflation and the twin deficits will be tamed. If those concerns are addressed by the government, we can surely expect the rupee to strengthen and the market to reach new highs."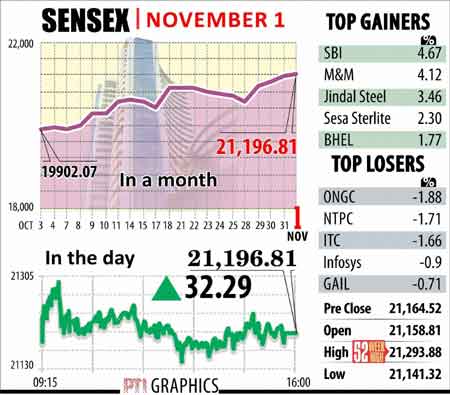 The US Federal Reserve's decision this week to continue with its bond-buying stimulus programme eased concerns about foreign funds pulling out capital from emerging markets.
Over the week, the Sensex has surged 513.3 points or 2.5 per cent.