Joining a global rally, the benchmark Sensex surged by over 451 points, logging its best daily gain in a month, to close at 20,850.74 today on the back of optimism over Chinese reforms and continued hopes of Fed sticking to its economic stimulus.
In step with local stocks, the rupee also jumped by over 60 paise to trade near 62.5 levels against the US dollar. The rupee recovered as the RBI plans to inject Rs 8,000 crore into the financial system via open market operations today.
Brokers said investors shrugged off sentiments from foreign brokerage outfit UBS downgrading Indian equities to "neutral" from "overweight". Massive buying was seen in rate-sensitive capital goods, banking and realty shares. FMCG, oil&gas and power also saw fund-based purchasing, they added.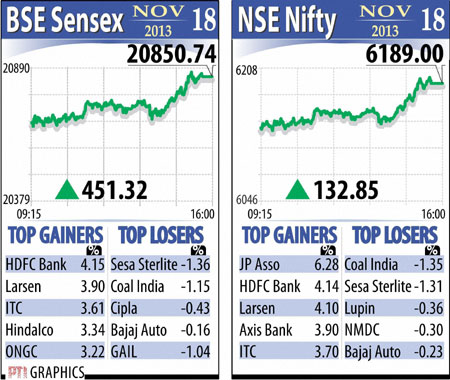 ITC, HDFC Bank and RIL drove the 30-share Sensex where 26 constituents ended the session in the green. L&T, HDFC, ICICI Bank, Infosys, HUL, ONGC, Hindalco and Bhel saw smart gains.
After gaining 205 points in the previous session, the Sensex shot up by 451.32 points, or 2.21 per cent, to end at nearly two-week high of 20,850.74. Additionally, this was the gauge's biggest single-day gain in terms of points since October 18 when it rose by 467.38 points.
Similarly, the broad-based National Stock Exchange index Nifty shot up by 132.85 points, or 2.19 per cent, to 6,189. Also, SX40 index of MCX-SX closed 247.21 points up at 12366.6.
Asian markets attracted solid buying in a delayed reaction to China last week unveiling big-bang economic and social reforms in nearly three decades. Shanghani Composite surged 2.8 per cent, followed by Hang Seng up 2.6 per cent, Jakarta Composite up 1.3 per cent while KOSPI inched up 0.23 per cent.
European markets were trading 0.3-0.5 per cent higher in early trade tracking gains in US that surged to a new record on Friday after Fed chief nominee Janet Yellen bolstered expectations of keeping the flow of easy money intact.
Sectorally, the BSE Capital Goods sector index gained the most by rising 3.19 per cent, followed by Banking index (up 3.15 per cent), FMCG index (2.52 per cent) and Realty index (2.41 per cent).
BSE Sensex rises most in a month on US Fed, China hopes ITC, HDFC Bank shares soar
(Reuters) BSE Sensex soared more than 2 percent on Monday, to mark its biggest single-day gain in a month, tracking gains in other Asian markets, cheered by the prospect of extended stimulus in the US and real economic reform in China.
World shares hit a near six-year high on Monday, boosted by signs of ambitious economic reform in China and after Janet Yellen, expected to be the next Federal Reserve chief, sounded in no rush to scale back stimulus.
Traders say liquidity would keep sceptics and economic worries aside for the time being. UBS downgraded India to "neutral" while upgrading China to "overweight", saying Plenum reforms will likely cause China to outperform Asia ex-Japan.
Overseas institutional investors are heading towards their third straight month of buying in Indian cash shares, totalling more than $5 billion since August, exchange and regulatory data shows.
"Earnings season had been more of good than bad. We are looking to accumulate good stocks at lower levels as liquidity and global sentiment remains good," said .
The benchmark BSE Sensex rose 2.21 percent, or 451.32 points, to end at 20,850.74, marking its biggest single-day gain since Oct. 18.
The broader NSE Nifty rose 2.19 percent, or 132.85 points, to end at 6,189, closing within 11 points of psychologically important 6,200 level.
Among blue-chip shares, Larsen and Toubro Ltd rose 4.1 percent while Reliance Industries Ltd ended 2.7 percent higher, on improving global risk appetite.
Shares in cigarette maker ITC Ltd surged 3.7 percent on unwinding of short positions in its November futures contracts, dealers said.
Bank stocks gained with bond yields on watch ahead of the Reserve Bank of India's 80 billion rupees bond purchases later in the day.
HDFC Bank Ltd rose 4.1 percent while ICICI Bank Ltd gained 2.1 percent. Among state-owned banks, State Bank of India rose 2.6 percent while Bank of India surged 7.9 percent.
Tata Steel Ltd shares rose 3.1 percent, adding to Thursday's 4.9 percent gain after the company's second-quarter profit beat expectations, helped by a rise in prices and market share at home.
However, among stocks that fell, Coal India Ltd shares fell 1.4 percent, adding to Thursday's 3.7 percent fall after its September quarter profit fell marginally to 30.52 billion rupees, lagging some analysts expectations.
FACTORS TO WATCH
* Dollar, yen fall; China helps growth-linked currencies
* Brent slips below $108 on Saudi exports; Iran eyed
* China reform plans lift world shares to 6-yr high
HIGHLIGHTS
BSE index gains 2.21 pct; NSE ends 2.19 pct higher
UBS cuts India to 'neutral', upgrades China on reforms
ITC gains on unwinding of short positions in Nov futures
Tata Steel gains on July-Sept earnings, China reforms
Indian shares rise most in a month on Fed, China hopes; FII flows key