Major gainers, which contributed to the rally, include ICICI Bank and State Bank of India.
The benchmark indices closed at their all-time highs on Monday with political parties gearing up to release their manifestos for the upcoming Lok Sabha elections, which kickstart on April 7. The BSE benchmark, the
Sensex
ended 1.38% or 300.16 points higher at 22,055.48 points, while NSE's Nifty ended 1.36% or 88.60 points higher at 6,583.50 points. Earlier, the Sensex and Nifty touhched their lifetime highs of 22,074.34 points and 6,591.50 points, respectively.
While Congress would be releasing its manifesto on Wednesday, reports suggest that BJP is also likely to release its manifesto on the same day. Experts feel the general elections (April 7, 2014-May 12, 2014) along with the improving macro-economic indicators is drawing foreign inflows towards India. Of late, the upcoming elections, offering the possibility of a democratic "refresh" seemingly rare among EMs, have added to India's relative attractiveness on macro parameters. We expect capital inflows to continue, driving mild currency strength and a drop in wholesale funding costs," Credit Suisse analysts Neelkanth Mishra and Ravi Shankar said in a report.
Among sectoral indices, the BSE Bankex (2.73%), BSE Auto (0.91%) and BSE Oil & Gas (2.46%) were the major gainers. Among individual stocks, Gail India (4.81%), Oil & Natural Gas Corp (ONGC) (4.27%) and ICICI Bank (3.71%) were the major gainers.
Also, speculation that the Chinese government may take measure to stimulate its slowing economy, shored up the Asian markets.
The Chinese manufacturing data released on Monday was below expectations. HSBC's preliminary purchasing managers' index (PMI) for March stood at 48.1, from a final reading of 48.5 in February and below the 48.7 median estimate of 22 economists surveyed by Bloomberg.
Experts feel Chinese economy faces risks due to growing debt. "Apart from the near-term growth risks, we believe the Chinese economy also faces risks related to the build-up of leverage post the global financial crisis," BNP Paribas said in a recent note.
The Nikkei (1.77%), Hang Seng (1.91%), Kospi (0.55%), Straits Times (1.25%), Jakarta Composite (0.43%) and Shanghai Composite (0.91%) were trading in the green. Meanwhile, European markets were under pressure. FTSE (-0.39%), DAX (-0.58%) and CAC (-0.66%) were trading in the red at 5.10 pm IST.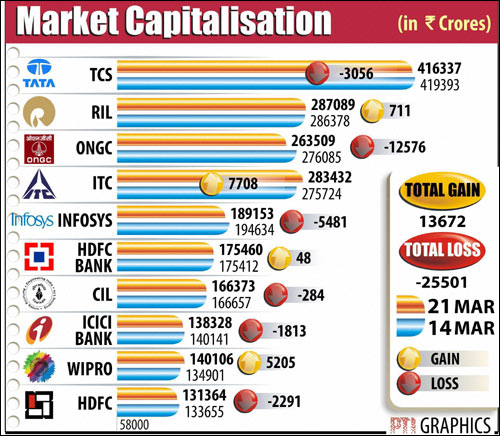 Also check:
* Photos: Kalyan Jewellers enters Delhi market, brand ambassador Aishwarya Rai Bachchan inaugurates showrooms
* Shakira unveils official song for 2014 World Cup in Brazil: Listen