Retreating from record highs, the benchmark BSE Sensex plunged 518 points, its worst drop in 10 months, on massive profit-booking across sectors even as Railway Budget proposed attracting FDI in infrastructure projects.
After gaining 276.33 points in previous two days to close above the 26,000 level, the BSE Sensex succumbed to profit-booking in recent gainers and closed 517.97 points, or 1.98 per cent, lower at 25,582.11. Intra-day, it hit a new record high of 26,190.44 but failed to maintain the levels.
Today's drop was the biggest since the 651-point crash on September 3, 2013.
Yesterday, the 30-share benchmark index had ended at its new closing peak of 26,100.08 after touching high of 26123.55.
Among the Sensex constituents today, 28 ended lower. BHEL (8.16 pc), NTPC (5.36 pc), Tata Power (5.04 pc) and Coal India (4.96 pc) led the laggards in bluechips. ONGC, RIL, GAIL, SBI, Axis Bank, Bajaj Auto, Dr Reddy, Hero Moto, Tata Steel and Hindalco were among those counters that slumped.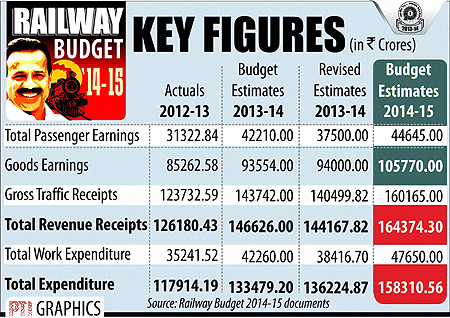 The NSE Nifty, after breaching the 7,800 mark to scale an all-time high of 7,808.85 at the outset, succumbed to masssive profit-booking to close 163.95 points, or 2.11 per cent, down at 7,623.20. It had gained over 72 points in past two days.
Share prices of companies that cater to the railway sector came under pressure and some logged losses of up to 20 per cent despite important announcements made by Railway Minister Sadananda Gowda in his maiden rail budget.
Prominent losers included shares of Texmaco Rail, Titagarh Wagons, Kalindee Rail Nirman and Container Corp.
"As Railway Budget for FY15 gets over, focus will now shift to Union Budget to be presented on July 10. Market volatility is likely to continue in this week, as Budget highlights shall be impacting sector specific action," said Nidhi Saraswat, Senior Research Analyst, Bonanza Portfolio.
Besides, a weak Asian trend and lower opening in Europe dampened the trading sentiments.
Foreign Portfolio Investors bought shares worth a net Rs 198.57 crore yesterday, as per provisional data.
Sectorally, the BSE Realty index suffered the most by losing 7.16 per cent, followed by Power index which fell 6.37 per cent. The thematic PSU index also fell 4.92 per cent.
Selling activity also gathered momentum in small and mid-cap sector stocks. Small-cap index lost 4.19 per cent and Mid-cap index fell 3.63 per cent.
BSE Sensex marks biggest single-day fall in over 10 months; budget eyed
(Reuters) Indian shares slumped more than 2 percent on Tuesday, marking their biggest single-day fall in over 10 months and retreating from record highs hit earlier in the session, after the railway budget raised worries the government would slash spending.
The railways budget has revised up the plan outlay to 654.45 billion rupees for 2014/15, up 1.8 percent compared with the interim budget's estimate of 643.05 billion rupees, but lower than market's expectations, traders said.
Analysts also said the plan in the railway budget to seek private funding for new projects did not provide enough details on how it would attract investors.
The railway plans set up expectations the government would slash spending when it unveils its federal budget on Thursday. Although equity investors are keen to see fiscal discipline, analysts also warn that big cuts in spending could hurt earnings in sectors such as railways that depend on state investments.
Indian Finance Minister Arun Jaitley reiterated his message of fiscal discipline on Tuesday by separately saying a "judicious balance" should be struck between expenditure and tax collections.
Profit-taking after a string of record highs in previous sessions coupled with overseas institutional investors' sales of 14.87 billion rupees ($248.45 million) in equity derivatives on Monday, also aided risk aversion.
"The budgeted outlay in railway is just in line with the inflation rate. One should expect the federal budget to be even tighter on spending as situation for broader economy is much worse than for railways," said G. Chokkalingam, founder of Equinomics, a research and fund advisory firm.
The broader NSE index slumped 2.11 percent, or 163.95 points, to end at 7,623.20, after earlier marking its fourth straight record high at 7.808.85.
The benchmark BSE index fell 2 percent, or 517.97 points, to end at 25,582.11, after earlier hitting its second consecutive life high at 26,190.44.
Both indexes marked their biggest single-day fall since Sept. 3, 2013.
Larsen & Toubro fell 4.4 percent while Reliance Industries lost 3.1 percent.
In other blue-chips, Tata Consultancy Services fell 1.6 percent and Oil and Natural Gas Corporation lost 4.5 percent.
Among lenders, ICICI Bank lost 2.8 percent while State Bank of India ended down 4.1 percent.
Indusind Bank lost 0.9 percent, a day ahead of reporting its April-June earnings.
India's railway-related stocks slumped on disappointment pertaining to the budgeted outlay for 2014/15.
Texmaco Rail & Engineering Ltd slumped 19.9 percent, while Kalindee Rail Nirman Engineers, Titagarh Wagons Ltd and BEML Ltd fell 5 percent each.
However, among gainers, Aban Offshore surged as much as 9.8 percent to 940 rupees, its highest since May 14, 2010, on hopes it may enjoy higher rig rates in the coming quarters, dealers said.
Aban shares ended up 3.1 percent.
FACTORS TO WATCH
* Quick fade for dollar rally, German trade disappoints
* Brent oil hits fresh 1-month low under $110
* Europe's stocks, bonds dip as bank fines mount