'We expect the government to commit to medium-term fiscal consolidation with a deficit target of 3% of GDP by FY17.'
Indian shares advanced for the fourth session in the last five, tracking global markets and sending the Sensex past the psychological market of 26,000 points. Pre-Budget euphoria sparked by finance minister Arun Jaitleys hawkish statement, which raised hopes of a growth-oriented Budget, further strengthened investor sentiment.
The Sensex rose 0.5% or 138 points to end at 26,100.08 on Monday while the Nifty advanced 0.46% or 35.55 points to 7,787.15, after posting a 3.5% gain last week.
India is the worlds best performing market in 2014, having left the Dow Jones (2.29%) behind by a significant margin. The Sensex is up 26.9% in dollar terms, beating not just Chinas Shanghai Composite (-5.10%) but also the Taiwan Taiex (9.96%) and South Koreas Kospi (4.64%).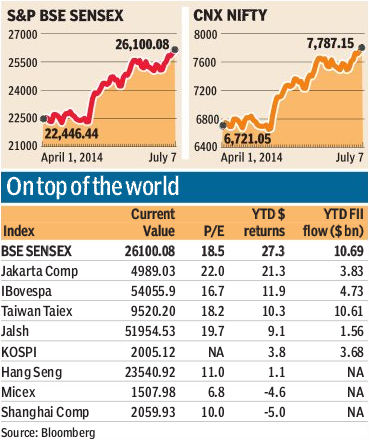 Indonesias Jakarta Composite (17.30%) is the only Asian market to have recorded a performance anywhere close to that of India. Last week, the benchmark indices marked the highest first-half-yearly gain of 20% since 2009, and further strengthened market performance vis-a-vis global peers.
Foreign institutional investors (FIIs) continued
to buy into stocks on Monday overseas funds have pumped about $10.5 billion into Indian equities so
far in 2014.
India has attracted the second highest flows among Asian and emerging markets tracked by Bloomberg. Except for January, FIIs have been net buyers every month this year, with the biggest purchases in March of $3.7 billion.
US equities surged to a record high last week after economic data showed an improvement in the job market, once again raising demand for Indian software companies. Analysts said foreign investors are bullish on India and if the Union Budget hints at better growth as well as controlled inflation, more money could pour into Indian markets.
Japanese diversified financial services firm Nomura expects a good Budget from the new government.
We expect the government to commit to medium-term fiscal consolidation with a deficit target of 3% of GDP by FY17. Additionally, we expect the budget to encourage infrastructure investment, announce measures to attract capital inflows such as FDI liberalisation, clarify on retrospective taxation, and raise the asset sales target owing to new Sebi norms. Hence, we expect the budget to contain a mix of statement of intent (talk) and actual announcements (walk), Nomura economists Sonal Varma and Aman Mohunta wrote in a research note.
Nomura further stated that long-term valuations appear attractive, with the Sensex trading at 15.5 times forward earnings. We remain constructive and view a correction on budget day, if any, as a buying opportunity. Our December 2014 Sensex target remains 27,200, the note stated.
At 1900 hours IST global markets were trading mixed, with major Asian indices ending near their three-year highs. However, European indices were trading down 0.5-1%.
Back home, sentiment remained positive. Twenty-one out of the 30 Sensex companies ended positive on Monday. Overall, market breadth was strong with 1,700 stocks ending higher against 1,383 declines. Shares of IT, pharmaceutical, power and automobile companies were in demand on Monday. Infosys paced gains rising 3.1% for software exporters as the rupee weakened the most in more than two weeks. Larger rival Tata Consultancy Services jumped 3.2%, while Wipro added 2%. The rupee lost 0.5% to 60.0175 against the dollar.
Tata Power shares advanced 3.7%. NTPC, Indias biggest power producer, gained 1.8%. Shares of commercial vehicle maker Ashok Leyland rose 2.9% as the company successfully raised Rs 666 crore by selling shares to institutional investors.
Companies catering to Indias railway sector gained for the second straight session ahead of Tuesdays Rail Budget. The Street expects the government will adopt modernisation and new technology to strengthen rail infrastructure.
Companies like Kalindee Rail Nirman, Texmaco Rail, Titagarh Wagons and Stone India, among others, ended up 4-13%.