Short-covering due to expiry of October contracts also gave a boost to the market. Reuters
The S&P BSE benchmark Sensex bounced back of 513 points to end at a lifetime closing high of 21,196.81 on fresh buying mainly in banking, FMCG PSU, capital goods, realty, auto and metal counters triggered by strong capital inflows and hopes of growth in the economy.
Foreign institutional investors (FIIs) continued their buying spree and invested a net Rs 4,865.85 crore during the week, including the provisional figure of November 1.
Short-covering due to expiry of October contracts also gave a boost to the market.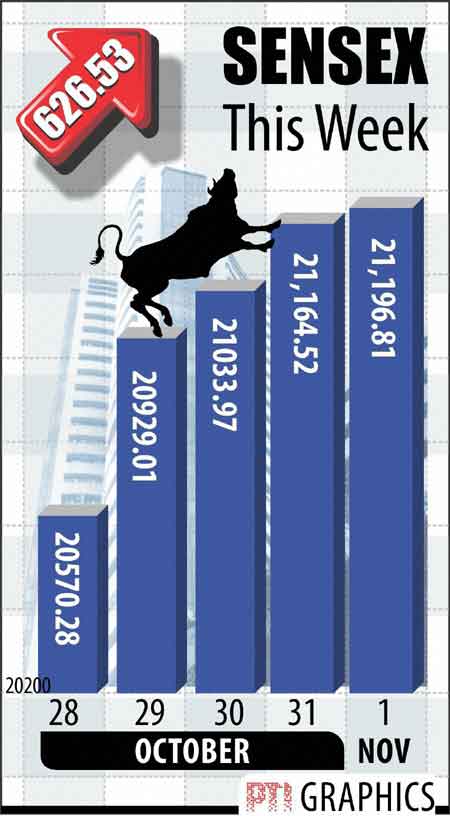 Markets gained after the Reserve Bank of India (RBI) increased the repo rate by 25 basis points on Tuesday, to curb inflation and also improved liquidity for banks, which was as per marketmen's expectations.
The Sensex opened higher at 20,696.51 and shot up further to intra-day all-time high of 21,293.88 and also finished the week at a lifetime closing high at 21,196.31, showing a sharp gain of 513.29 points or 2.48 per cent. The index surpassed the previous intra-day record of 21,206.77 on January 10, 2008.
The NSE-50 share Nifty also rose by 162.30 points or 2.64 per cent to finish at 6,307.20, but failed to surpass its historic closing high of 6,312.45 recorded on November 5, 2010.
The US Federal Reserve's decision this week to continue with its bond-buying stimulus programme eased concerns about foreign funds pulling out capital from emerging markets.
The market also got a boost when Union Finance Minister P Chidambaram said that the current account deficit is under control and the fiscal deficit target will be met.
The RBI increased the policy repo rate to 7.75 per cent and cut the marginal standing facility rate to 8.75 per cent, as was widely expected. It also increased liquidity provided through seven-day and 14-day term repos.
Jignesh Chaudhary, Head of Research, Veracity Broking Services said,"Indian Equity markets are being blessed by FIIs money, in the absence of retail investors and has traded at an all time high this week.
The markets had already factored in the interest rate policy decisions and hence as expected the markets did not react much to the 25 basis point hike in Repo Rate and a 25 basis points decrease in MSF. However a weak projection of GDP from 5.5 pct to a low of 5 pct did create some hiccups but was over powered by the strong FII buying in the market."
"The Economic Calendar has important data for US GDP, Jobless Claims & Employment change due next week. These data points are expected to be weaker, which will prompt more buying by FIIs in emerging and Asian markets. The CNX Nifty is expected to trade in the range of 6239 to 6326 and if there is no Fundamental news it might breach 6350, similarly the BSE Sensex is expected to trade in the range of 20988 to 21252 which means it's expected to be in psychological 21000 marks and if there is no Fundamental news might reach till 21500," he added.
27 scrips out of the 30-share sensex ended in green while retmainin three finished in red.