Bolivia is looking to extend its footprint in South Asia and India is big on its expansion list. The South American country is setting up an embassy in New Delhi and it will follow it up with consulates in Mumbai and other key metros in the country.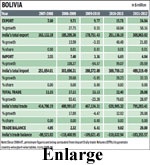 For our country, ties with the south are very important and that is what we'll be concentrating on. While we are interested in connecting with other countries in the region, India, an emerging economic power in the region, is with who we want to establish strong relations, Jorge Cardenas Robles, ambassador of Bolivia to India told FE in his first-ever interaction here.
President Eva Morales, Bolivias first president, is of Indian descent and we are culturally very rich. This will surely give me an opportunity to show what my country can offer to India and I would invite the Indian industry honchos to visit our country, he added. Bolivia is looking for a free-trade agreement with India. And for this the government is in the process of improving laws and the rights of water.
Besides going regional and working with countries under various groupings including CELAC and Mercosur, we are looking forward to not only working with state governments but are also keenly looking towards working with the SMEs, Robles said.
Mercosur a grouping of Argentina, Brazil, Uruguay, Paraguay was suspended because of its removal following the political impeachment of Fernando Lugo from presidency and Venezuela's admission during the dictated absence of Paraguay. Bolivia, Chile, Colombia, Peru and Ecuador are associate members while Venezuela joined officially on July 31.
According to the new envoy, since Bolivia is a land-locked country, India can use this as a gateway to sell its goods in South America. Currently, Uruguays port facilities for land-locked Bolivia enables La Paz to use them for storage with no need to pay any tariffs when they are moved to the Atlantic.
Bilateral ministerial contacts have largely been on the sidelines of meetings of international organizations. The MoS (C&I) had met Bolivian vice president in May 2000 on the sidelines of the Mercosur Economic Summit in Rio de Janeiro. Bolivian vice foreign minister Pablo Guzman visited Delhi in September 2009 to participate in an informal meeting on the Doha round of negotiations and met Indian commerce and industry minister.
Total bilateral trade between India and Bolivia in 2010-11 was $ 22.34 million, with Indias exports to Bolivia at $ 15.65 million. While Indias imports from Bolivia amounted to $ 6.69 million, in 2010-11, bilateral trade between India and Bolivia increased by 70% compared to 2009-10.
The exports from India increased by 60%, while imports to India increased by 99% as compared to 2009-10. The Indo-Bolivian trade balance in 2010-11 was $ 8.96 million in favour of India. In the first three months of 2011-12, Indias exports to Bolivia were $ 4.36 million and imports were $1 million. In fact, India has proposed a BIPPA (Bilateral Investment Promotion and Protection Agreement)and is awaiting a nod to the draft from the Bolivian side. Also, the Bolivian government has proposed the signing of an agreement on visa exemption for diplomatic and official passport holders (draft is with Indian side). Due to historical and geographical reasons, Bolivia has not been a key player in regional politics although the recent discovery of large reserves of natural gas in the country is rekindling international interest. Bolivia has been supportive of various Indian candidatures to international organisations. It was one of the few countries that had agreed to co-sponsor the G-4 resolution in an expanded UNSC.
The vast reserves of natural gas in Bolivia have led to projects for the export of this gas to other countries. GAIL(India) had expressed interest in this sector. It would be an opening to get Indian companies in both upstream and downstream operations, especially in areas such as gas liquefaction, pipeline construction, gas-based electricity generation.
The Morales administration is working on developing a 'new Bolivia' and is looking at possible investments in the education, energy, telecom, pharma and IT sectors. Alternative medicines are going to be a big hit in Bolivia. It will be a win-win relation for both countries, the envoy said.