Master Blaster Sachin Tendulkar during the launch of BMW 1 Series in Mumbai on Tuesday. PTI
German carmaker BMW on Tuesday forayed into the luxury compact segment in India with the launch of a new series priced between Rs 20.90-29.90 lakh.
The all-new BMW 1 Series is available in petrol (BMW 116i) and diesel variants (BMW 118d, BMW 118d Sport and BMW 118d Sport Plus).
The new offering, manufactured at BMW's plant at Chennai, was unveiled by cricket icon Sachin Tendulkar here.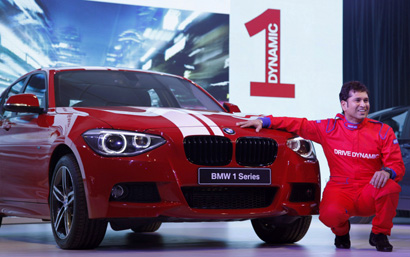 The company will increase investment in its Chennai facility to Rs 390 crore by this year-end from Rs 180 crore announced earlier, a BMW official said after the launch.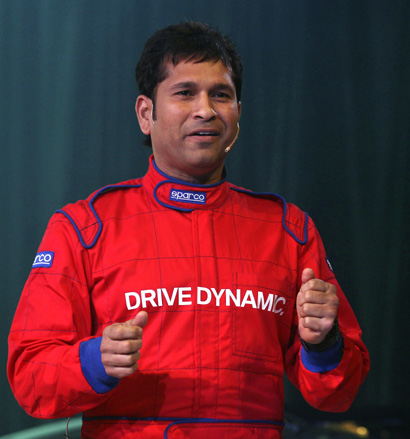 "We are increasing investment in Chennai plant to Rs 3.9 billion from Rs 1.80 billion. We have also ramped up the capacity at the plant to 14,000 units per annum from 11,000 units," BMW Group India President Phillip Von Sahr told reporters.
Currently, the company assembles the 3, 5, and 7-Series and X1 models locally and the newly-launched 1 Series too would be assembled at the Chennai facility, he said.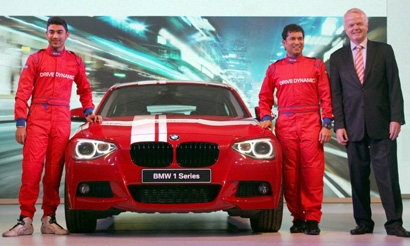 Sahr said a second assembly line at the Chennai plant has already started production. With this, the company can now produce upto eight models.
Terming BMW 1 Series as "fantastic," Tendulkar said people will enjoy its ride, especially in a city like Mumbai.
"As a car, I like the entire package. The whole car is beautiful. It is not just the size but also the styling, like putting the 3, 5 and 7 series together in this wonderful package called the 1 series. It is fantastic. I am looking forward to get this car and zip around Mumbai," he said.
Looking at the city's traffic and road condition, this is something people would enjoy. The car is also easy to park, the cricketer said.