Snapping a three-day rising streak, the
BSE Sensex
today plunged over 590 points to end below 18,000-level as the Indian rupee nosedived to 66-mark against dollar and concerns related to government's fiscal burden after the passage of Food Security Bill weighed on sentiment.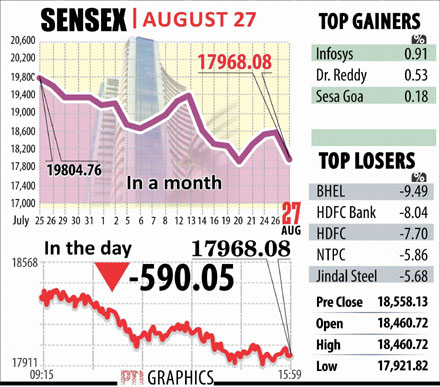 Indian rupee plunges through 66-mark to US dollar, sheds mammoth 176 p
Investors lost a whopping Rs 1.7 lakh crore in wealth as across-the-board selling saw over 1,500 stocks closing in red.
Banks, capital goods, power and realty were among the hardest hit as investors pulled out money from blue-chips.
The BSE Sensex, which had gained 652 points in past three sessions, tumbled by 590.05 points, or 3.18 per cent to 17,968.08, a level last seen on August 21.
It was not one of the best days for the investors as the markets grappled with negative global cues, geopolitical tensions and firming crude prices. The Food Security Bill was passed yesterday and it is expected to add to the fiscal burden. We believe, crude oil has emerged as a key risk in the near-term, which is not a good sign for the Indian rupee. Thus, on an overall basis, the macroeconomic outlook has weakened and risks have clearly strengthened, says Sanjeev Zarbade, Vice President-Private Client Group Research, Kotak Securities.
On similar lines, the broad-based NSE Nifty fell below a crucial 5300 level by dropping 189.05 points, or 3.45 per cent to 5,287.45. SX40 index, the flagship index of MCX-SX, closed 391.41 points or 3.55 per cent down at 10629.77.
Brokers said with the rupee hitting a new record low of 66 per dollar in intra-day trade, market participants resorted to panic selling on concerns over increased capital outflows.
The selling pressure gathered momentum on worries that the Food Security plan would worsen government's fiscal burden while a weakening global trend on growing tension in Syria and surging oil prices also weighed, brokers added.
In 30-share Sensex pack, 27 stocks fell. HDFC Ltd dropped 7.70 per cent to Rs 686.86, HDFC Bank by 8.04 per cent to Rs 560.90, SBI by 2.40 per cent to Rs 1,519.90 and ICICI Bank by 3.26 per cent to Rs 803.30.
Among others, Reliance Industries (RIL), Sun Pharmaceuticals Industries, Oil & Natural Gas Corp (ONGC), NTPC, Maruti Suzuki India, Mahindra & Mahindra Ltd, Bharat Heavy Electricals Ltd (BHEL), Larsen & Toubro, Bharti Airtel, ITC Ltd, Coal India and Hindalco Industries Ltd suffered heavy losses.
Bucking the general weak trend, stocks of software exporting companies led by Infosys and Tata Consultancy Services (TCS) gained on hopes the strong rupee would boost their revenues.
The banking index suffered the most by losing 5.34 per cent to 10,108.72 followed by capital goods by 4.71 per cent to 6,980.68. Power index fell by 4.51 per cent to 1,355.43 and realty index by 3.95 per cent to 1,186.88.
Indian shares plunge over 3 pct; food bill unsettles investors
(Reuters) BSE Sensex slumped over 3 percent on Tuesday, giving up nearly all their gains over the previous three sessions, as blue chips including HDFC plunged on worries the passage of a food security bill would worsen the country's fiscal deficit.
The falls were accentuated as the rupee plunged to a record low of 66.075 to the dollar as the 1.35-trillion-rupee ($20.94 billion) bill providing subsidised grains passed by the lower house of parliament on Monday renewed doubts about the government's resolve to control spending ahead of elections due next year.
The slump in both shares and the currency also comes after overseas investors have sold about $810 million worth of shares in the previous seven sessions through Monday, with global sentiment weakening further amid uncertainty about the prospect of military action against the Syrian government. The weak appetite for risk also eclipsed an announcement by Finance Minister P. Chidambaram that the government had approved infrastructure projects worth 1.83 trillion rupees ($28.38 billion), a step aimed at reviving economic growth and shoring up investor confidence.
Analysts were sceptical about India's ability to attract funds for infrastructure projects in an economy growing at a decade-low of 5 percent.
"There is negative sentiment for emerging markets and government has to take very strong steps at ground level which have been missing so far," said Navneet Munot, chief investment officer at SBI Mutual Fund.
The benchmark BSE index slumped 3.18 percent, or 590.05 points, to close at 17,968.08, ending its three-day gaining streak.
The broader NSE index fell 3.45 percent, or 189.05 points, to end at 5,287.45, closing below the psychologically important 5,300 level.
Blue-chips led the decliners, with Housing Development Finance Corp Ltd ending down 7.8 percent, while ITC Ltd lost 3.1 percent.
NSE bank index slumped 5.4 percent to mark its lowest close since January 2012 on continued worries over slowing growth and dimming prospects of RBI reversing its liquidity tightening measures any time soon as the rupee continue to make record lows.
HDFC Bank Ltd plunged 8.1 percent while ICICI Bank Ltd ended 3.4 percent lower.
IDFC Ltd slumped 16.5 percent, adding to Monday's 8.7 percent fall, after the Reserve Bank of India on Friday cut the limit that foreign investors can own in the infrastructure lender to 54 percent from 74 percent without giving a reason.
Oil and Natural Gas Corp fell 3.3 percent, marking a fall of 6.3 percent in two days after it agreed to buy 10 percent in a gas field offshore Mozambique from Anadarko Petroleum Corp for $2.64 billion.
However, among stocks that gained, Dr. Reddy's Laboratories Ltd rose 0.8 percent, clocking a fourth day of gains after the company said on Thursday it had launched a key generic drug which has sales of $194 million in the U.S.