BlackBerry Z3 been designed for emerging markets like Indonesia and India.
BlackBerry is all set to launch its new device, the Z3 in India this week. The phone has been designed for emerging markets like Indonesia and India. It is also the most affordable BlackBerry 10 device till date. The Indonesia launch was successful enough for it to find a mention in the companys results for the first quarter of 2014.
REPLUG You first read about the launch and price here
But will the phone be good enough for India and the customers here There are still a lot of loyal BlackBerry users in India, but that is a vanishing tribe. The once ubiquitous BlackBerry devices are almost on the verge of being relegated to a senior management device again. But the Z3 has the potential to bring the Canadian smartphone maker back to the forefront in India. Here are three reasons:
1. Affordability: BlackBerry got its volumes in countries like India thanks to devices like the Curve 8520, which brought the companys unique features to very low price points. The Z3 is also a very affordable device, having been launched in Indonesia for the equivalent of Rs 11,500. That is a good price for a 5-inch all-touch phone from a global player. However, Indians still have some fixation with the Rs 10,000 price point. If the company devices to launch the phone below that price point, it would have won half the battle.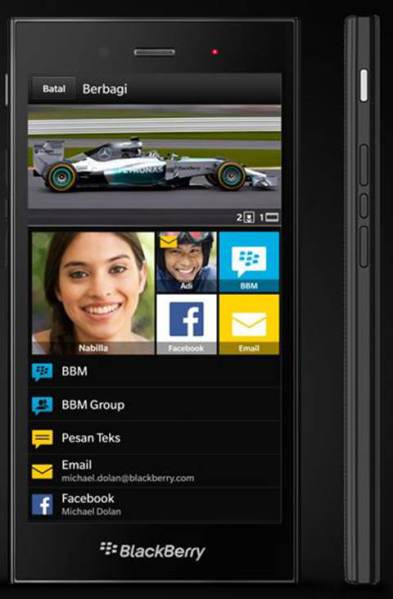 2. Android apps: The BlackBerry OS 10 is a good operating system that exploits the companys expertise in security, device management and, of course, great keypads. However, the best feature of the latest OS is the fact that on top of all this you get to add any, yes any, Android application you want to. This solves one of the biggest problems people had with BlackBerry, the lack of apps that are popular in other ecosystems. While you can side-load apps from any app store, BlackBerry will in a few months offer official access to the Amazon app store. That will give BlackBerry 10 OS a slight edge over Android.
3. BlackBerry OS 10.2.1: The latest version of the BlackBerry operating systems plugs most of the gaps in the first version of the phone. With BlackBerry Hub the OS manages your mails and notifications much better than others, you can now act on notifications from the lock screen itself and the entire experience is intuitive and simple.
4. The device: Even at the price of Rs 11,500, a 5-inch smartphone with Android apps is a steal. On paper, the Z3 gives you 8GB of storage and a battery that is good for 15.5 hours of talk time. Which is at par with any phablet in this price range.
Now to see what the final price of the Z3 will be in India. Watch this space for updates.