Bharatiya Janata Party's PM candidate Narendra Modi speaks during the release of party's election manifesto. (PTI)
Most of Narendra Modis big ideas are in the BJPs manifesto so there is the promise to build 100 new smart cities, gas grids, optic fibre grids, a diamond quadrilateral of bullet trains to beat Atal Bihari Vajpayees golden quadrilateral of expressways, Singapore-style mapping of education needs for different sectors, larger share of private defence suppliers ... And, to the extent, Modis track record speaks for itself, few doubt he will be able to fix the governance deficit, whether on strengthening the bureaucracy, or building world-class ports connected with rail/road networks. Each one of these promises, implemented well, opens up large new avenues for investment across different sectors.
Predictably, the BJP has stuck to its known positions, not only on the Ram temple, Section 370 and the uniform civil code, but on its opposition to foreign investment in organised retail the latter has, no doubt, dashed the hopes of those who hoped the BJP would tone down its stance, more so after Modi ducked the issue at the traders meeting in the capital several weeks ago.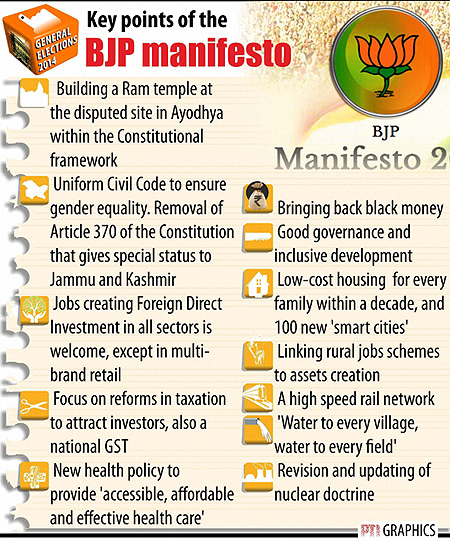 What is worrying, however, is that there are few big-ticket policy reform ideas in the manifesto. One can argue that it is suicidal to announce reforms in an election manifesto much better to do them by stealth instead and that the important thing to see is what the manifesto expressedly rules out. To that extent, the manifesto allows Modi the freedom to do a lot. So while there is no explicit mention that the BJP will open up the coal sector to private developers the way the petroleum sector was opened up by Vajpayee, there is nothing preventing Modi from doing this either. Similarly, while there is no explicit talk of cutting subsidies these rose from 1.4% of GDP during the NDA years to 2.4% during UPA-II it is possible to argue the overall rubric of financial discipline pretty much covers this; indeed, it will also ensure oil prices are raised regularly. The problem with this argument, however, is that it leaves too much room for subjectivity. The BJPs position on coal or iron ore mining, for instance, is that this should be opened up to the private sector, but only for actual users were that logic to be used, a Cairn India would never have been allowed into oil/gas production, and the consequences of that are obvious. Similarly, the manifesto has little on autonomy for PSUs, much less on privatising even the loss-making PSUs; or on reducing government shareholding in banks, critical if they are to be able to raise enough funds to lend fast enough. In short, investors looking for a reforms agenda in the BJP manifesto are certain to be disappointed; those who believe Modis track record is good enough will continue to feel enthused. Modi was, and remains, the BJPs central message.