State-owned Bharat Heavy Electricals Ltd (Bhel) has started exploring opportunities of setting up a facility in Indonesia, while global boiler leaders like Sumitomo, Vallourec & Mannesman and Wyman Gordon have evinced interest to form joint ventures for making boiler tubes in India.
AV Krishnan, Bhels Tiruchy plants executive director said that the company was in the process of studying the Indonesian market, but did not want to divulge whether Bhel has given any proposal to the Indonesian government.
Sources close to the development said the company was in the advanced stage of negotiations with the Indonesian government and has proposed setting up an assembly facility with knocked down materials supplied from India.
However the size and investment would be decided after a break through in the negotiation, the official said adding that the strategy was to be close to the coal producing countries, where there were a good number of opportunities to create power infrastructure. Things (plan of setting up a facility) will get crystalised in three to six months, the official said. But Krishnan did not want to comment on it though he said the market potential for creating power infrastructure was high in Indonesia at present.
Bhel already has a marketing office in Indonesia with personnel in the rank of a general manager heading it. An overseas facility could escalate Bhel to a status of multi-national.
Meanwhile, three foreign companies- Sumitomo of Japan, Vallourec & Mannesman of France and Wyman Gordon of the US has evinced interest for setting joint ventures with Bhel to manufacture boiler tubes, the requirement of which would double in Bhel itself with the expanded capacity of 20,000mw in place by 2012.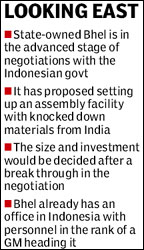 Bhel currently requires 1 lakh tonne of tube each year, which is manufactured in-house for full captive consumption. But once the requirement goes up to 2 lakh tonne by 2012, outsourcing would give it a better cost advantage in terms of making sub critical boilers. In fact, a 74 metres high boiler needs around 500 kms of tube to surround the boiler drum and the fire wall. Tubes are a critical component in making sub- critical boilers.
We have been discussing with these companies for the last six months and all these companies are looking up to Bhel as a supporting partner in setting up a facility here, Krishnan said. He said although forming JVs with these companies were under consideration but nothing about its form or the way Bhel would participate has been finalised. We can make procurement commitment in case of a JV, Krishnan said.