Shares of banks and non-banking financial companies (NBFCs) ended up nearly 1% Monday on increased hopes of a 25-bps cut in key policy rates by the Reserve Bank of India (RBI), which is scheduled to meet on Tuesday to review its credit policy.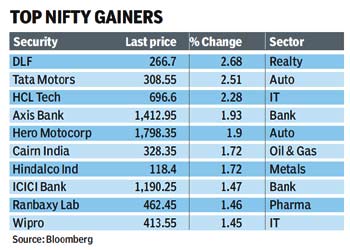 While the benchmark indices ended flat after a cautious and narrow-range trade, the banking index closed at a two-week high. The CNX Bank Nifty advanced 0.64%, or 81.70 points, to close at 12,774.95, led by gains in private sector banks.
We met 25-odd investors in the US on our India 2013 views in the past week. Most investors are in show me mode: show me rate cuts, show me. Rate cuts are key to banks and rate sensitives trades. The prospect of RBI rate cuts we pencil 25 bps on Tuesday and 75 bps by June cropped up at every meeting with most clients positioned long banks and rate sensitives, said Indranil Sen Gupta, chief India Economist, Bank of America Merrill Lynch.
Rating agency Icra, too, expects RBI to cut repo rate by 25 bps in the policy review, in line with the guidance provided previously, with a focus on moderating any spikes in the systemic liquidity deficit through open-market operations.
Yes Bank, which came close to touching its 52-week peak, was the top gainer in the banking space, rising 3.8% from Friday's close after Nomura Financial Advisory & Securities, the Indian arm of the Japanese financial services major, upgraded the scrip to buy on Monday, driven by expectations of strong Casa growth and strong margins expansion. Axis Bank also came close to touching its 12-month peak, after rising over 2%. ICICI Bank ended up 1.5%.
In contrast, all public sector banks that form the part of Bank Nifty ended in the red, with Bank of India being the biggest loser, despite the company's third quarter results beating Street forecasts. While Bank of India's net profit rose 12% y-o-y to R803 crore, driven by growth in the net interest income, the scrip eventually ended down over 2.5%.
Other rate sensitive and high-beta stocks, such as automobiles, real estate and metals, were also trading over 1% up, anticipating a 25-bps-cut by the RBI. The BSE Realty index, which rose 1.8% to a one-week high, was the biggest gainer, led by gains in DLF, Unitech and Phoenix Mills.
India's largest real estate developer, DLF, gained 2.75% to touch its new 52-week high. India's leading car manufacturer, Maruti Suzuki, also touched a new 52-week high as several domestic and global institutions re-rated the stock following better-than-expected Q3FY13 numbers late last week. Eventually, the scrip parted with some of its gains to end up 0.44% or R7.05 from Friday's close at R1,607.25.