Gross non-performing assets (NPAs) in the banking system, as a percentage of total gross loans, declined to 4% in March 2014 from 4.2% in September 2013, on the back of lower slippages and higher recoveries by lenders, the RBI said in its Financial Stability Report.
The central bank expects gross NPA levels to stay around 4-4.1% for FY15, considering baseline conditions that the GDP will grow at 5.6%. However, if macroeconomic conditions deteriorate, the GNPA ratio may increase further and could rise to around 5.1% by March 2015 under a severe stress scenario, the report added.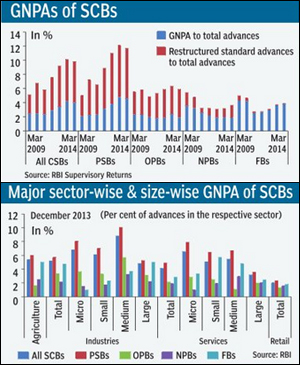 Banks stressed advances also declined to 9.8 % of the total advances from 10.2% between September 2013 and March 2014. Public sector banks continued to register the highest stressed advances at 11.7% of total advances, followed by old private banks at 5.9%.
The RBI credited the sale of NPAs to asset reconstruction companies (ARCs) for the improvement in loan quality. This improvement in asset quality was due to the lower slippage of standard advances to non-performing advances and a seasonal pattern of higher recovery and write-offs that generally take place during the last quarter of the financial year, the report said.
The agriculture sector accounted for the highest gross NPA ratio. However the pain from industries persisted and restructured advances in the sector continued to be high and pushing up stressed assets. Stressed advances in the industry sector stood at 15.6% of total advances followed by the services sector at 7.9%.
There are five sub-sectors: infrastructure (which includes power generation, telecommunications, roads, ports, airports, railways,other than Indian Railways, iron and steel, textiles, mining (including coal) and aviation services, which contribute significantly to the level of stressed advances. The share of these five stressed sub-sectors to the total advances of scheduled commercial banks is around 24%, with infrastructure accounting for 14.7%, the report added.
PSBs continued to register the highest gross NPA ratio among bank groups and the RBI expects that, under sever stressed conditions, gross NPA ratio may rise to 6.1% by March 2015 from 4.6% in March 2014. Under a severe stress scenario, PSBs may record the lowest CRAR of around 9.4% by March 2015 (against 11.4% in March 2014), which is close to the minimum regulatory capital requirement of 9%, the report added.