Vehicle recalls on account of manufacturing defects have doubled in 2011-2012 compared to 2008-2010, but does that mean cars and two-wheelers are deteriorating in terms of quality standards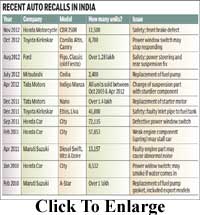 No, feels the industry. Increased consumer awareness and cut-throat competition are compelling automakers to improve quality levels by acknowledging faults with vehicles even after sales. This has led them to offer free replacement of parts without the fear of being branded for poor quality. So far, many companies viewed the recall tag as a dangerous word, so much so that they often played it down by calling it free fix, maintenance checks, upgrades or free service.
In 2012, there have been five recalls one each from Honda Motorcycle & Scooter, Toyota Kirloskar, Mitsubishi, Ford and Tata Motors. Mitsubishi, however, called it a field repair. In 2011, there were five as well two from Honda Car and one each from Toyota Kirloskar, Maruti Suzuki and Tata Motors. Toyota Kirloskar also did not call it a recall though. Compared to this, over 1997-2010, there were just about eight vehicle recalls.
Deepesh Rathore, MD, IHS Automotive India, feels that the market is maturing to a point where companies are forced to acknowledge manufacturing defects before customers face problems.
Its a good thing when a company recognises a defect and is bold enough to offer a free fix, because brand goodwill goes a long way. Any company that hides a recall or chooses not to call it such, probably does not think the Indian consumer is mature enough, he added.
What underlines this change is that the battle among automakers is now moving to the after-sales arena, where the aim is to improve overall ownership experience. This is important to maintain brand loyalty at a time when the average period of car ownership has almost halved to only 4-5 years.
Auto companies now feel that it is first important to improve the ownership and dealer experience for the customer, a senior industry official said.
The industry has also been pushed by Society of Indian Automobile Manufacturers (Siam) new voluntary recall code unveiled this July and the governments plan to develop a mandatory mechanism for fixing such defects and penalising the errants. With a system in place, companies are encouraged to announce recalls.
Earlier, companies were not obliged to inform either Siam or the media, so they contacted customers directly. When we are designing this, members initially felt it may look like a stigma, but now it shows proactiveness by the industry. They gather data on potential defects when cars come in for servicing, a Siam official said.
Siam added that it is open to a third-party enforcing recalls and gathering consumer complaints that can be aggregated and passed on to the companies. The government can come up with norms on this or create a common website. It has to be a third party to give confidence to the consumer. We cant be an auditor for ourselves, the official said.