Audi is preparing to launch one of its most important new cars, the new A3 saloon, this year. Unlike its German compatriots Mercedes-Benz and BMW who sell the A-class and 1-series luxury hatchbacks here, Audi says our market isnt ready for luxury hatches yet and that a saloon is a more attractive alternative. It could be right.
Due on sale mid-2014, with bookings starting earlier, the A3 saloon could well turn out to be Audis most popular model in India. Audi today is probably Indias most sought after luxury brand and the effect a considerably more affordable saloon could have could be dramatic.
Whats it like outside
As the name suggests, this is a saloon that will be positioned below the A4 in Audis line-up. In fact, it looks almost exactly like an A4 from most angles. But dont be fooled; the A3 is a half size smaller when you see it in person. In fact, at 4,456 mm long and 1,796 mm wide, its only about the same size as a Toyota Corolla Altis (the 2,636 mm wheelbase is just 36 mm longer).
As you would imagine, then, the space inside the cabin will be a little less than what you get in an A4. But the A3 isnt cramped and theres a very important reason for this. While all the bigger Audi saloon cars mount their engines longitudinally (in a north-south, lengthways direction), the A3 is the first one to mount it transversely or left to right. This layout takes up less space in the engine bay, so the bonnet can be made smaller and more space can be given to the cabin. In fact, space in the front is as good as that of an A4 and legroom at the rear is only marginally less. Only, the small rear doors make getting in and out a bit tight.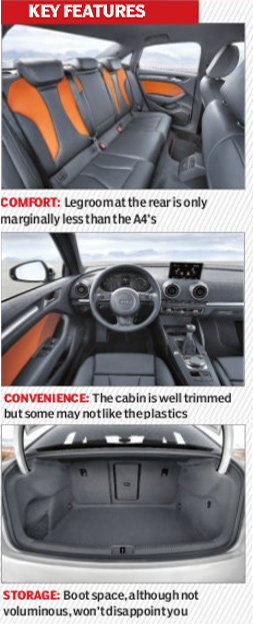 Whats it like inside
The cabin itself is very well trimmed; this may be the baby of the Audi saloons, but the look and feel is exactly what youd get from the bigger cars in the range. Build quality is very high too and you almost instantly know that this is an Audi cabin. There are beautiful textures, perfectly fitting plastics and plenty of metal garnishing, so as always, the Audis cabin feels special. There are some less than perfect bits as welllike the plastics on the top of the dashboardthat fall a little short of the Audi standard. But, in general, this car is exactly what you expect of an Audi.
Also semi-familiar is the design of the inside; it reminds you a bit of Audis sport coup, the TT. It is neat and minimalistic but not too exciting, with four chrome-ringed, well-crafted circular air-con vents being the standout feature. The instrument dials look bright and clear, and the screen for the MMI (multi-media interface) system slides up from the dashboard. Like Audis other saloons, the A3 can be specced with the fully loaded MMI system (with a larger screen and a trackpad), and Audi is likely to offer this in the top-spec version for India, with features like satellite navigation slotted in, in order to keep the brands luxury tag intact.
The company is aware that Indian buyers have certain expectations of luxury cars, and so will maintain features like leather seats and automatic climate control. Audis signature LED daytime-running lights, however, are likely to be available only on the top-spec versions.
Whats under the hood
Powering the A3 will be both petrol and diesel engines and Audi is likely to eventually provide quite a wide and varied choice. The mainstay of the range, however, is expected to be the familiar, but now thoroughly updated, 2.0 TDI diesel engine that also powers the Skoda Octavia. Audi has only recently upgraded the A4s engine to 174 bhp, which means the 148 bhp version of the 2.0 TDI is what the A3 is likely to get.
Audi is also planning on getting a smaller diesel in the shape of the new 1.6-litre that produces 103.5 bhp and 25.5 kgm of pulling power. It is basically a more compact version of the next-generation engine that powers many VW-Audi group cars; this engine is expected to be super efficient and will help give Audi the most competitive price point. Now 103.5 bhp may not seem like a lot, but 25.5 kgm of pulling power is more than sufficient, especially since the A3 weighs less than 1,300 kg.
The 1.8-litre turbocharged petrol is actually the same one used in the Skoda Octavia and here too it produces 178 bhp and 25.5 kgm of torque. We love this engines combination of smoothness, refinement and outright power, and you can expect the A3 equipped with this engine to perform really well. Both engines will get automatic gearboxes and Audi, as on the Q3, will also offer a six-speed manual gearbox to help give one of its models a killer price. Audis patented quattro or four-wheel drive system is, however, not likely to make it to the A3.
Whats it like to drive
We drove the A3 saloon with the 1.6 TDI engine in Europe and were impressed by how refined the car was. Theres very little noise from the engine, tyres or suspension, even at high speeds and this gives you a feeling of travelling in a large, expensive car. The car cruises happily on a light throttle, and you can even overtake quite easily when you drop a gear. In fact, performance is so good on full throttle; you can feel the front wheels fighting for grip as you accelerate. One things for sure, this new 1.6 TDI sure feels like a larger capacity engine. Outright performance, it must be said, isnt spectacular however. But remember, if you want more power, you can opt for either of the other two engines.
Like with most Audis, the steering also feels very light and doesnt feel very engaging. You feel a bit detached from the action initially and that can be a bit disconcerting. Soon, however, you begin to appreciate the accuracy of the steering system. It may be inert and lack feel, but it works accurately and allows you to drive the car in an effortless manner.
Also, quite amazingly, the car felt very stable in a straight line and holding onto high speeds posed no problems whatsoever.
The price you pay for all this stability, however, is stiffness and a slightly unsettled ride. The A3 thumps over poorly maintained roads and, on rough patches, a fair amount of vibrations get transferred through to the cabin. This is, however, something that will likely be improved on the Indian version as cars here get a raised and generally more pliant suspension systems due to the poor conditions of our roads.
Delivering the look and feel of a R40 lakh car for an estimated starting price of R22 lakh, the new Audi A3 looks like a winner. With no direct competition at the time of its launch, it will exist in the same price bracket as larger executive saloons like the Skoda Superb and Toyota Camry. It might not be able to offer the same amount of space, but what customers will get is a luxury saloon built to the same exacting standards that Audi applies to all of its cars. A car that, in essence, is a slightly scaled down version of Audis A4, the new A3 is likely to be one of Audis bestsellers. So, if you want one, we suggest get in nice and early to avoid the booking frenzy.