On Friday, foreign institutional investors (FIIs) sold $43 million worth of equities, as per provisional data on the BSE.
The benchmark indices ended flat on Friday with markets expecting the US payroll data to allay global growth concerns. The BSE benchmark Sensex ended 65.82 points, or 0.32%, higher at 20,376.56 points, while NSEs Nifty ended 26.90 points, or 0.45%, higher at 6,063.20 points.
On Friday, foreign institutional investors (FIIs) sold $43 million worth of equities, as per provisional data on the BSE. FIIs have increased their selling after US Fed decided to cut its stimulus package further by $10 billion on January 29. Since then, FIIs have sold $338.74 million worth of Indian equities, taking this years total selling to $229.03 million.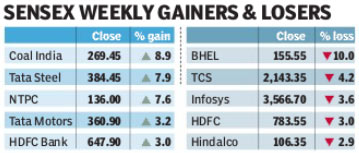 Experts warn that the selloff in developing markets is likely to continue. The negative sentiment is pretty much in place, so you can expect a lot more selling, said Mark Mobius, executive chairman, Franklin Templeton. Globally, markets are witnessing a risk-off sentiment.
Investors pulled a record weekly amount of $28.3 billion out of US equity funds and put a record amount of $14.8 billion into US bond funds for the week ended February 5, according to Citi Research data. Investors also pulled $6.4 billion from emerging markets funds, including the 15th week of outflows for EM equity funds, according to Citi.
It was, however, a tepid week for the markets with the 30-share Sensex shedding 0.66% even as it inched higher in four out of five sessions. On Monday, Sensex plunged 304.59 points after the government revised the GDP growth to 4.5% from 5% estimated earlier. It has managed to gain 167.3 points since then.
On Friday, the markets opened on a positive note in the morning, gaining as much as 139.77 points, or 0.68%, intra-day amid a firm trend in Asian indices ahead of the US jobs data. As per a Reuters poll, non-farm payrolls are expected to have increased by 185,000 in January compared to the 75,000 payrolls added in December, which was the lowest in three years.
Tata Steel (6.39%), Sesa Sterlite (3.66%) and Sun Pharmaceutical Laboratories (2.80%) led the market. The Tata Steel scrip ended at R384.45, or 23.10 points higher, as upbeat quarterly results from rival, Arcelor Mittal, triggered hopes of better-than-expected earnings from Indias top steel maker.
Arcelor Mittal reported a 23% y-o-y rise in its Ebitda (earnings before interest, tax, depreciation and amortisation) at $1.9 billion. Tata Steels quarterly results will be out on Tuesday.
Among peers, most Asian indices ended in the green on Friday. Nikkei was up 2.17%. Hang Seng (1%), Kospi (0.77%), Straits Times (0.83%), Jakarta Composite (0.95%) and Shanghai Composite (0.56%) were the major gainers. Among European indices, FTSE 100 (0.17%), DAX (0.21%) and CAC 40 (0.23%) were trading in the green at 7 pm IST. However, during the week, Shanghai Composite (-0.53%), Kospi (-0.41%) and Hang Seng (-2.20%) remained negative in dollar terms.
Back home, 20 of the 10 Sensex stocks advanced. For the broader market, the breadth was strong with 2,739 advances against 1,220 declines. Most of the 12 sectoral indices ended in the green. BSE Metal (2.66%), BSE Realty (1.04%) and BSE Healthcare (1.69%) were the major gainers.