Financials will also see a boost, with the merged company estimated to report a 68% rise in Ebitda and 65% in net profit. (Reuters)
Two days after proxy advisory firm Stakeholders Empowerment Services (SES) advised Wyeth's shareholders to vote against the proposed amalgamation with Pfizer, another proxy advisory, Institutional Investor Advisory Services (IiAS), has urged Wyeth shareholders to approve the deal as it will increase the long-term value of the merged entity.
The view differs with SES position on the valuation of the deal, which, it said, was not fair to Wyeth shareholders as the pre-dividend swap ratio (0.70:1) conformed to the valuers recommendations, but the same ratio changed to 0.83:1 based on ex-dividend volume weighted prices.
IiAS supports Pfizer's viewpoints for the merger, saying the combined entity will possess a product portfolio, which will contain eight brands in the top 100, instead of the current six, leading to a stronger market presence. Consequently, Pfizers market share will increase to 2.9% from 1.9%. Financials will also see a boost, with the merged company estimated to report a 68% rise in Ebitda and 65% in net profit.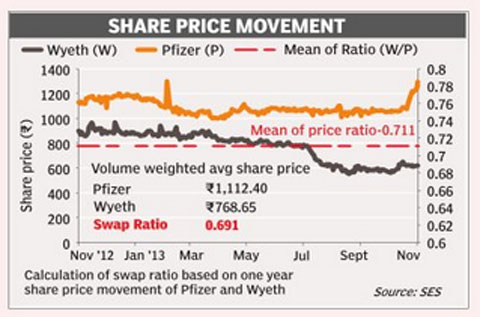 Mumbai-based IiAS said that the merger will also streamline their marketing strategy and a consolidated brand will lead to a stronger market presence. The merger will also result in operational synergies in terms of compliance and governance costs, the IiAS report added.
SES had said the valuers had access to details of the interim dividend prior to the announcement and had adjusted the swap ratio based on that information, which indicated issues in fairness and governance, of the transaction.
SES also said the disproportionate distribution of dividend resulted in sacrifice of interest of Wyeth shareholders in favour of Pfizers. Had the dividend declared been in same ratio, then for R360 Pfizer dividend,R252 should have been declared for Wyeth. Any dividend lower than that would lead to loss of value for non-promoter shareholders of Wyeth. As evident, the dividend of Pfizer and Wyeth are in the ratio of 0.4:1. The value given to Wyeth shareholders has been reduced by disproportionate dividends paid out.
The Indian subsidiary of the US-based pharma company had announced its decision to offer 7 Pfizer shares for each Wyeth share on November 24, 2013, along with an interim dividend of R360 a share to Pfizer stakeholders and R145 a share to Wyeth stockholders.