It was billed as the biggest private financing deal in the history of China.
In September 2012, the Alibaba Group announced that it had completed a $7.6-billion deal to buy back half of Yahoos stake in it. The giant e-commerce company raised part of the money by selling shares to select investors, notably Chinas sovereign wealth fund and three prominent Chinese investment firms.
What Alibaba did not detail was the deep political connections of the investment firms, Boyu Capital, Citic Capital Holdings and CDB Capital, the China Development Banks private investment arm.
Their senior executive ranks included sons or grandsons of the most powerful members of the ruling Communist Party, according to an analysis by The New York Times. Documents reviewed by The Times also show that a fourth investor bought Alibaba shares that month: New Horizon Capital, a private equity firm co-founded by the son of Chinas prime minister at the time, Wen Jiabao. The new revelations only demonstrate the paucity of information about existing shareholders in what is poised to be the biggest initial public offering of this year.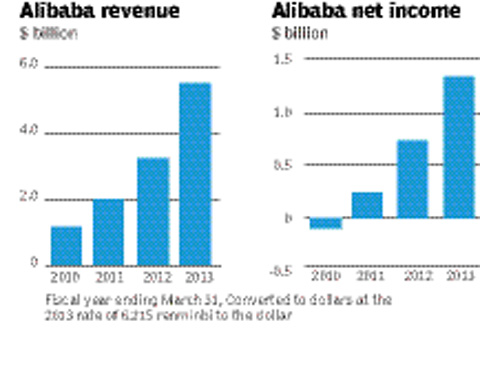 As part of its regular filings for the offering, Alibaba disclosed the owners of about 70% of its shares. The group includes big foreign investors like Yahoo and the Japanese communications company SoftBank, as well as top executives such as Alibabas chairman, Jack Ma, and its vice chairman,
Joe Tsai.
But less is known about other shareholders, whose sway may be significant even if their stakes are not. The situation raises questions about the transparency and operations of Alibaba, which is set to go public in the United States in the coming months.
It would take, at this point, a seismic effort to topple an Alibaba, said Anne Stevenson-Yang, a co-founder of the Beijing firm J Capital Research, which specialises in detailed analyses of Chinese companies. Theyve got so many different allies across so many different ministries.
Such politically connected investors will most likely reap a bonanza when Alibaba goes public, an offering that analysts estimate could value the company at more than $200 billion. At that level, even a 1% stake would be worth $2 billion.
Already, their investments have performed spectacularly well.
New Horizon Capital reported that at the end of 2013 the value of its Alibaba stake stood at 3.73 times the cost of its initial investment, according to the documents financial statements from one of New Horizons investors, the Cayman Islands-registered partnership Legacy Capital.
By that measure, the $400 million investment in Alibaba made by a subsidiary of Boyu Capital gained more than $1 billion in the same time period. Boyu counts former President Jiang Zemins Harvard-educated grandson Alvin Jiang as a partner.
In a country of more than 1.3 billion people, the fact that four Chinese companies investing in Alibaba have had executives who are either sons or grandsons of the two dozen men who have since 2002 served on the Politburo Standing Committee, the most elite group of leaders, speaks to how deeply Chinas political class has attached itself to the highest echelons of finance.
For example, The Times reported in 2012 that Wens relatives, including his son, Winston Wen, who co-founded New Horizon Capital, controlled assets worth at least $2.7 billion.
Such connections matter. They help secure deals, potentially giving companies an advantage in a highly competitive business
environment.
Corporate ties to these so-called princelings have also attracted the attention of law enforcement authorities in the United States. Investigators at the Securities and Exchange Commission and federal prosecutors in Brooklyn are looking at whether a JPMorgan Chase programme called Sons and Daughters, under which it hired relatives of senior Chinese officials and top company officials, violated the Foreign Corrupt Practices Act. Other banks are under investigation for similar
programmes.
JPMorgan and the other banks have not been accused of any wrongdoing. To run afoul of the American law, a company must act with corrupt intent or with the expectation of offering a job in exchange for government business.
In Alibabas case, the ownership stakes are tangled in layers of shell companies that shift from one Caribbean tax haven to another.
Some of Boyus shares are held through one of its subsidiaries, Athena China Limited, which is set up in the British Virgin Islands. Athena is controlled by another offshore entity, Prosperous Wintersweet BVI, which in turn is owned by the Cayman Islands-registered Boyu Capital Fund I, Alibaba reported to the Securities and Exchange Commission.