The second quarter of the current fiscal was the worst quarter for Air India.
Air India has not been able to meet the earnings target set for FY14 and would report losses of around Rs 5,400 crore at the end of the financial year, as against the target of Rs 4,000 crore primarily due to high operational costs. The national carrier, however, is likely to meet the revenue target set for FY14.
These estimated figures were discussed in a board meeting of the national carrier held in February and drew flak from the independent directors, who want the airline to improve its financial performance.
*Check Live Updates: BSE Sensex
We will be able to achieve the revenue target for the current fiscal and the losses are primarily because of the increase in cost of operations including high oil prices, said a senior Air India official.
The second quarter of the current fiscal was the worst quarter for the airline, when it missed its revenue target by over Rs 700 crore due to lower passenger load and a fare war in the domestic market.
The airline would also not be able to meet the target of making an operational profit of Rs 1,040 crore and is likely to report operational profit of Rs 770 crore. The national carrier had narrowed its net loss to Rs 5,100 crore at the end of FY13 and had reported a net loss of Rs 7,100 crore in FY12.
The airlines performance on the asset monetisation front has also not been satisfactory. It is likely to raise about Rs 400 crore through sale of assets during FY14 as against a target of Rs 1,200 crore. It has failed to sell its four-acre land in New Delhi that could have fetched around Rs 800 crore.
Despite reporting improved numbers, Air India is losing around Rs 11 crore a day. It is running on government support, with committted funds of over Rs 30,000 crore till FY21. The government has injected Rs 13,200 crore into the airline in the last two years against a commitment of Rs 16,700 crore over the period.
Also read: Malaysia Airlines Flight MH370: 20 planes, ships resume hunt west of Perth after more debris spotted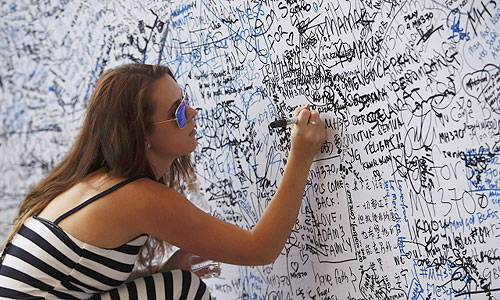 A woman writes on a wall dedicated to the passengers of the missing Malaysia Airlines flight MH370 during the the Malaysian F1 Grand Prix at Sepang outside Kuala Lumpur. (Reuters)