As a result, the carrier has since 2012 withdrawn or restructured five domestic and four international routes
State-owned Air India, which is focusing on its turnaround plan, has stopped flying on nine unprofitable routes in the last two years to cut down on its losses.
According to information submitted in Parliament recently, the airline was not able to meet even variable costs like fuel on such routes and losses on them since 2011 had accumulated to Rs 455 crore.
As a result, the carrier has since 2012 withdrawn or restructured five domestic and four international routes. Many of these routes have since been taken over by private carriers like Jet Airways, Saudi Airlines, IndiGo, GoAir and SpiceJet.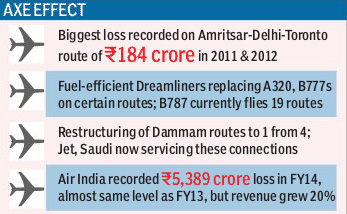 The latest route to be axed in March due to poor load factor was Chennai-Pune as it had posted losses of almost R10 crore since November 2012. Other routes on which flights have been stopped include Amritsar-Delhi-Toronto (R184 crore losses in 2011 and 2012) and Chennai-Vizag-Bhubaneswar.
On some other routes like Amritsar-Sharjah, Kolkata-Bhubaneswar, Delhi-Gwalior-Mumbai, Kolkata-Imphal and Lucknow-Sharjah, Air India has cancelled its own flights but subsidiaries Alliance Air and Air India Express continue to service them profitably. However, Alliance Air and AI Express have also cancelled around five unprofitable routes between themselves.
Apart from stopping flights, the carrier has significantly restructured connections to Dammam in Saudi Arabia from four flights earlier connecting Mumbai, Delhi, Hyderabad and Kerala, Air India now connects Dammam only from its hub in Delhi.
More route cuts may also be in the offing. According to a senior Air India official, services on the Delhi-Sydney/Melbourne-Delhi route may be reduced from daily to five or four a week if the daily losses of R50-70 lakh continue.
Meanwhile, the more fuel-efficient Boeing B787 Dreamliner aircraft will be deployed on routes like Chennai-Singapore, Delhi-Bangkok-Delhi, Mumbai-Bangkok-Mumbai and new routes like Delhi-Moscow-Delhi. Air India currently has 15 of the 27 Dreamliners it had originally ordered in service, which fly 19 routes between themselves.
While its total debt stands at around R44,000 crore, which is increasing because of high fuel costs and interest on aircraft loans, Air India expects to get R7,069 crore in FY14 from the government (R6,500 crore as equity infusion and a plan allocation of R569 crore) to improve its financial position. The airline recorded losses of R5,389 crore in FY14, almost the same level as FY13 when it recorded losses of R5,490 crore. Operating revenue though rose 20% in FY14 to R19,170 crore.