Malaysia Airlines is already under fire for the still-unexplained loss more than three weeks ago of Malaysia Airlines MH370. (AP)
Malaysian budget carrier AirAsia said today a much-delayed new international terminal set to open in one month is rife with problems, casting further doubt on aviation safety in the country as it struggles with the Malaysia Airlines MH370 crisis.
The facility near Kuala Lumpur International Airport (KLIA) is being touted by Malaysian authorities as the world's largest low-cost airline terminal.
All 227 passengers of Malaysia Airlines MH370 cleared: Malaysian police chief
But the terminal, dubbed "klia2", has been hit by repeated delays, construction issues and costly overruns that have sparked a parliamentary investigation and harsh criticism of the state-linked Malaysian airport operator that built the terminal.
"There are many concerns, especially on functionality, safety and security of klia2, which are paramount to our staff working efficiently, and for our passengers to have a seamless travel experience," AirAsia CEO Aireen Omar said in a statement.
She had said in a statement late Tuesday that the fast-growing airline -- whose success is seen as a driving force in the decision to build klia2 -- would refuse to move into the new terminal from an existing one until "unresolved pressing issues" are addressed.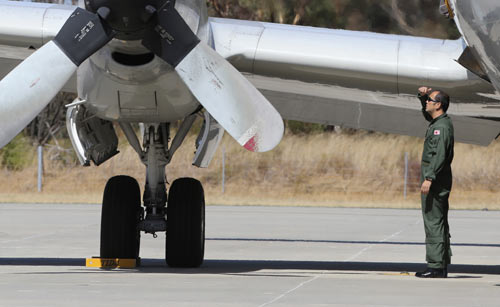 A pilot on a Japan Maritime Self-Defense Force P-3 Orion carries out pre-flight check at RAAF Base Peace in Perth, near Australia. Ten planes and nine ships resume the search for missing Malaysia Airlines Flight MH370 in the southern Indian Ocean.(AP)
AirAsia has been a harsh critic of klia2's delays and ballooning costs, and says it has been shut out of decision-making, despite being the facility's biggest and most important future tenant.
AirAsia's statement yesterday had warned about "depressions" on a runway discovered by independent inspectors.
"We are more than ready to move to klia2 but we must move under the right circumstances," Aireen's latest statement said, appealing to Malaysian Prime Minister Najib Razak to intervene to help "resolve this national issue".
The country's airport operator Malaysia Airports Holdings Bhd (MAHB) has said AirAsia and other carriers will have to move to klia2 by May 9, when it plans to close an existing low-cost terminal nearby, which handled 22 million passengers last year.
MAHB, which is building klia2, did not respond to an AFP request for comment.
The government and flag carrier Malaysia Airlines are already under fire for the still-unexplained loss more than three weeks ago of flight MH370 with 239 people aboard.
The flight lifted off from KLIA's main terminal and disappeared shortly after in a mystery that has shone a harsh light on Malaysian authorities and aviation safety.
Malaysia now believes it crashed in the Indian Ocean, but no proof has been found and the sequence of events aboard the plane remains unknown.
Mystery of Malaysia Airline Flight MH370 may never be solved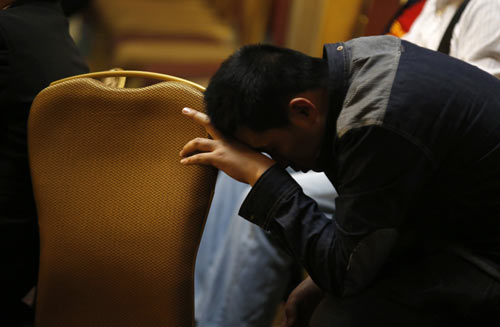 A relative of a passenger aboard Malaysia Airlines Flight MH370 reacts after attending a video conference with the Malaysian government and Malaysia Airlines officials from Kuala Lumpur, at the Lido Hotel in Beijing.The search for the missing Malaysia Airlines Flight 370 resumed on Wednesday, even as senior Australian officials warned that bad weather and a lack of reliable information were seriously impeding efforts to locate the plane's wreckage.(Reuters)