Bharti Airtle's reported net income of Rs 11.1 bn included exceptional loss of Rs 2.52 bn in Q1.
Rating: ADD (Under review)
Solid quarter: Bharti Airtel reported a solid overall set of numbers for Q1FY15 with 18% year-on-year Ebitda growth despite another weak quarter for Africa operations. India wireless Ebitda (earnings before interest, taxes, depreciation, and amortisation) growth of 25% y-o-y (ahead of Ideas 23%) was the key highlight of the quarter. India business metrics and cost control reassure us on our thesis on India wireless fundamentals. We believe that Jio-related risks are amply baked in and remain positive on both Bharti and Idea. We shall review our estimates on Bharti post the earnings call.
Consolidated results ahead of expectations... Consolidated Q1 revenues, Ebitda, Ebit and recurring net income were 1.5%, 3.4%, 6% and 10% ahead of our expectations, respectively. The beat was led by better-than-expected performance in the India operationswireless shone in particular while DTH and telemedia also reported strong results. Consolidated revenues for the quarter came in at Rs 230 bn, +13.3% y-o-y and +3.3% q-o-q. Ebitda was Rs 77.2 bn, +18% y-o-y and +5.7% q-o-q while adjusted recurring net income was Rs 13.6 bn, +92% y-o-y. Reported net income of Rs 11.1 bn included exceptional loss of Rs 2.52 bn on account of settlement of a few disputes and associated tax implications. Ebitda margin expanded 130 bps y-o-y and 70 bps q-o-q to 33.6%.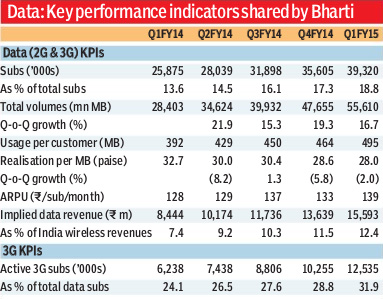 led by strong India business delivery: At an overall level, Bhartis India business delivered 12% y-o-y growth in revenues and 22% y-o-y growth in Ebitda as Ebitda margin expanded 310 bps y-o-y to 38%. India business net profit grew 112% y-o-y. India business net income was R23.5 bn for the quarter. Solid India business performance was led by robust delivery in the wireless business. India wireless revenues grew a strong 5.5% q-o-q and 10% y-o-y to R127.5 bn while wireless Ebitda grew a healthier 11.7% q-o-q and 25% y-o-y to R47.1 bn. Incremental Ebitda margin in this business was nearly 70%, depicting the strong flow-through dynamic of RPM-led (revenue per minute) growth. Among other businesses, DTH posted excellent improvement in profitability880 bps y-o-y expansion in Ebitda margin drove 90% y-o-y Ebitda growth on 21% revenue growth. Telemedia had a good quarter, long distance and passive infra businesses were steady.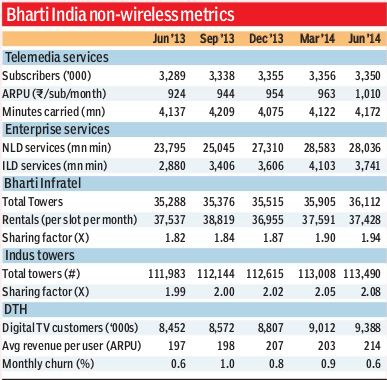 Africa wirelessweak again: Performance in Africa operations was the only key negative in the earnings report. Even as constant-currency revenue growth was ahead of estimates at 3% q-o-q and 12% y-o-y, Ebitda margin decline of 100 bps q-o-q and 240 bps y-o-y to a multi-quarter low 24.3% was disappointing. Absolute Ebitda declined around 2% q-o-q to $283m. We note that Bhartis Africa Ebitda has stayed in the $275-300m range for the past nine quartershis is despite gains from favourable interconnect rate cuts in several markets. Ebitda margin on net revenues declined sharper160 bps q-o-q and 310 bps y-o-y, on account of a sharp increase in license fees and SG&A (selling and acquisition expenses) expenses. The lack of consistency in Bhartis Africa revenue growth/margin balance is a concern.The company is clearly struggling to deliver both.
Balance sheetnet debt declines R30 bn q-o-q: Bhartis net debt at end-June 2014 stood at R577 bn, down R28 bn from R605 bn at end-March 2014. Including the deferred spectrum payment liabilities that the company accounts for as part of capital commitments, net debt stood at R706 bn, implying a net-debt-to-annualised Ebitda of 2.3x (times). Bharti spent R40 bn consolidated capex during the quarter with India wireless (R23 bn) and Africa wireless (R10 bn) representing a major portion. Excluding passive infra, capex for the quarter was R37 bn. Bhartis capex guidance stands at $2-2.2 bn (ex-spectrum). We view the step-up in India wireless capex positively the company spent on accelerating 3G network rollouts (highest-ever single-quarter 3G network expansion at 3,263 new sites).
India wireless data KPIs: Bharti added 3.7m data subscribers to its base and ended Q1FY15 with a data subs base of 39.3m (19% of total subs). We note the company tightened its data subs recognition norms during the quarter. Data volume growth was a healthy 17% q-o-q and 96% y-o-y to 55.6 bn MB. Data revenues grew 14.3% q-o-q and nearly 70% y-o-y to R15.6 bn. Data now forms 12.4% of Bhartis India wireless revenues. Usage per sub stood at 495 MB/month (+7% q-o-q, +26% y-o-y). Data realisations dipped 2% q-o-q and 14% y-o-y to 28 paise/MB.
Kotak Institutional Equities