Microsoft was a late entrant to the tablet scene. Its flagship device, Surface, got a lukewarm response globally and did not even get an official release in India. Windows 8, its touch-friendly OS, was Microsofts bet to make an impact in the burgeoning tablet market. The OS has slowly started making a mark, with manufacturers coming up with Windows 8 devices. Acer is one of them, and has launched the Iconia W4-820 tablet on this platform.
Once unpacked, the Iconia W4-820 will please with its compact look. The 8-inch tablet has just one physical button, the one with the Windows home screen. The blackish-metallic silver look gives the device a cool avatar. Typing with two hands felt comfortable, but a portable keyboard or a kickstand would help the user to exploit the full potential of the device. The thickness of the device, however, disappointed me. With thinner tablets like the iPad Air and Google Nexus 7 around, Acer could have made the device slimmer.
Windows 8 offers a completely different user experience compared to iOS or Android. I found the initial set up experience to be cumbersome, when compared to the smoothness of an Apple or Android device. The user might also need some time to get used to the way one juggles between apps by swiping left or right, somewhat similar to BlackBerrys BB10 OS.
The tile interface of Windows 8 is definitely pleasing and Acer has done a good job by pre-loading a lot of useful apps like Skype, Evernote, Kindle, 7digital (offers an excellent collection of downloadable music), tunein (an online app having a good collection of internet radio stations), Amazon, Music Maker Jam along with a host of Acer services like Acer Portal, Acer Docs (similar to Skydrive, where one can save documents on the cloud) and Acer Remote Files. Apart from this, the
device comes preloaded with the usual Microsoft goodies.
But where the Iconia W4-820 scores is how it seamlessly transfers the user from a tablet to a PC-like experience. As soon as one clicks the Desktop icon, the tile interface gives way to a PC desktop, with all the familiar options like documents, downloads, pictures, music, recycle bin etc. And the biggest highlight of a Microsoft OSthe Office suite comes preloaded. This should work wonders for those on the move and are tired of carrying their heavy laptops to work on their Word, Excel or PowerPoint documents.
The W4-820 has an 8-inch 1280 x 800 TFT LCD display with IPS. Colours were sharp with excellent viewing angles. Powered by an Intel Atom 1.33 GHz quad-core processor and 2 GB RAM, the Iconia W4-820 is fast and zippy, with decent multitasking capabilities. The device comes inbuilt with 64 GB memory, of which around 52 GB is free for the user, further extendable via microSD card. This should be good enough for an average user.
Another plus point of the device is the USB on the go function. Just connect your flash drive via the micro USB data cable and access data, music and videos seamlessly. An extremely handy feature, something that even the biggies in this segment do not offer.
One significant problem I felt was how the websites werent optimised for Windows 8 tablets, something I do not experience on a iPad or any Android tablet. Watching videos on YouTube were not very pleasurable, and I had to frequently use the pinch-to-zoom
option to read everything on the
window properly. Lack of dedicated apps on the platform certainly troubles Windows 8, and so did the Iconia W4-820. As a browser, Internet Explorer still lags behind Safari, Chrome or Firefox in terms of user-friendliness, which I felt while testing the device.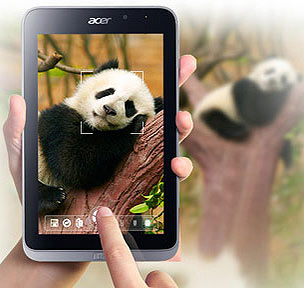 A 5 MP-back camera takes care of the photographer in the user. Pictures were nothing great to speak of. The 2-MP HD front camera takes care of video calling needs. The tablet is powered by a mammoth 4960 mAh Lithium Polymer battery, with a video standby time of eight hours, which should easily last a day for an average user.
In a nutshell, the Acer Iconia W4-820 is a smart and nifty tablet. In spite of a good screen, a fast processor and good storage capabilities, the highlight of this tablet is definitely the MS-Office capabilities, and should definitely attract those who like to mix play and work.
Acer Iconia W4-820: Specifications
* Display: 8-inch, Active Matrix
TFT Colour LCD display with
1280 x 720 resolution
* CPU: Intel Atom 1.33 GHz quad-core
* Operating system: Windows 8.1
* RAM: 2 GB
* Internal memory: 64 GB internal storage + Micro SD slot
* Camera: 5 MP (rear); 2 MP (front)
* Battery: 4960 mAh Lithium Polymer battery
Estimated street price: Rs 33,499
- Debasis Basak