Infosys is the latest entrant into a league of cos that report more than Rs 10,000 cr of earnings. Reuters
Infosys is the latest entrant into a coveted league of companies that report more than R10,000 crore of of annual earnings. The IT giant, which reported a 25% y-o-y jump in its profit for the fourth quarter of the fiscal 2013-14, has garnered net earnings of R10,648 crore in the year and joined counterpart TCS in this club.
With the debut of Infosys, a record nine companies are likely to report net consolidated earnings higher than R10,000 crore in FY14. While six of the BSE-100 companies have already crossed this mark in the first three quarters of the fiscal, on annualising the earnings of the first nine months of the fiscal, it appears that NTPC and Cairn India are also set to join the group.
However, both are not new to this group as they had achieved this milestone in FY13.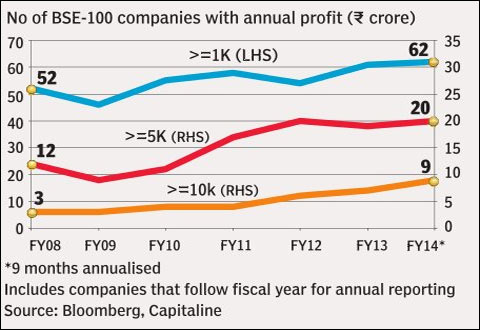 While Oil & Natural Gas Corpn , Reliance Industries and State Bank of India have led the 10K league since FY08, Coal India has been part of this lot since its listing in the secondary market in FY11. By reporting net earnings of R10,072.7 crore in the first nine months of the fiscal, Tata Motors has returned to the league in FY14 after a year.