We are in early days in disinflationary process, we have to see how it works out: RBI's Raghuram Rajan.
If the disinflationary process continues at a faster-than-anticipated pace, the Reserve Bank can go in for a cut in interest rates, Governor Raghuram Rajan today said as he hoped the post-election Budget will push ahead with fiscal consolidation and boost investments.
"If disinflation happens in much faster rate than anticipated and we believe we can finish this period with the appropriate amount of final disinflation, we certainly will be in position to cut the interest rate at that time," Rajan told researchers and analyst at the post-policy conference call.
Read: After Election Commission's nod, Raghuram Rajan's RBI clears new bank licences for IDFC, Bandhan Financial
Explaining, he said a "good" budget focusing on the already-on fiscal consolidation by reducing subsidies and improving investments would be helpful on inflationary front.
"A good budget, action on agriculture support prices, reduction in subsidies and perhaps targeting more investment would be helpful on the inflationary front."
The Governor noted "we are in early days in the disinflationary process, we have to see how it works out, but we are hopeful that it would play out well."
Rajan said he would like monetary policy to be stable and not react to every incoming data.
Indian rupee hitting 45-50 to US dollar may impinge on exports: Raghuram Rajan

"We would want to have stable monetary policy. To the extent that we find the substantial amount of room builds up before the interim target (of CPI) is reached, the question would then be should we cut tremendously now but then run the risk of not reaching the final target, and the general intent would be a smoother process.

"However, to the extent that we have substantial room that builds up, that would prevent any further hikes in the anticipate, and that would be useful," Rajan said.

RBI-appointed Urijit Patel panel, in its report, has set CPI target of 8 per cent by 2015 and 6 per cent by 2016.

The apex bank has tried to forecast consumer price index and is setting interest rates with idea that it would achieve a certain level of CPI at a particular time, he said.

"Which means that we are willing to look through the transient increases in CPI or transient decline in CPI, once such transient decline could be because of base effect. We are willing to look through these with the view of achieving a medium-term goal that we have set," Rajan said.

RBI is trying to avoid a situation where monetary policy becomes extremely volatile and acts in reaction to every piece of incoming data, Rajan said.

"We want to essentially achieve this disinflation in as smooth way as possible."

Talking about the rising rupee, the Governor said RBI does not have any particular level for the local currency in mind but aims at curbing volatility in the forex market.

"Our primary aim is to reduce exchange rate volatility and that's where our exchange intervention goes."

Rajan said if at the current level of the rupee, which has breached the key psychological level of 60 per dollar, there is a need to reduce volatility, the RBI may go to the market and buy greenbacks.

On conducting open market operation, he said, "we are not averse to do open market operations as and when needed."

On trimming SLR from the current 23 per cent, he said if the next Budget continues with fiscal consolidation it will give the central bank more room to slash the minimum amount of bond holding required for banks.

On foreign banks converting into local arms, he said the transformation to wholly-owned subsidiary structure is not so much a move based on reducing the profitability of foreign lenders but primarily a move to enhance the stability of the domestic financial system.

Rajan said he would like the conversion to wholly-owned subsidiary model to happen on a voluntary basis.

Doomed Malaysia Airlines MH370 plane: A mystery forever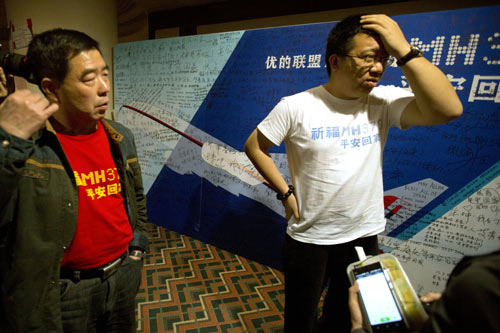 Steve Wang, a representative from the committee for relatives of Chinese passengers onboard the Malaysia Airlines MH370 talks to journalists after a closed door meeting with Malaysian officials via teleconference in Beijing, China. A Malaysian police investigation into the pilots of the missing Malaysian jet might turn up nothing, the force's chief said. while the head of the international search effort also acknowledged that an air hunt to spot wreckage on the surface of the southern Indian Ocean was not certain of success. The Chinese words on the t-shirts read 'Pray for MH370 safe return' (AP)