Our structurally low cost position across commodities, excellent liquidity and strong cash flow have positioned us well to deliver in these unprecedented markets.
Anil Agarwal Chairman, Vedanta Resources Group
Sterlite Industries, Indias largest producer of non-ferrous metals such as aluminum, copper, zinc and lead, has several competitive edges over rivalsproduction costs far below global benchmarks, strong liquidity position, investment grade credit rating and a diversified portfolio. The company, which is part of billionaire businessman Anil Agarwals London-listed Vedanta Resources Plc, is also set to become one of the leading silver producers in the world in two years.
One of the risks that the company faces like any other player in an extractive industry, is the damage its operations could render to the environment. The company has to move cautiously while exploiting natural resources in a sustainable, environmentally and socially responsible manner. It is now awaiting the Supreme Courts decision on its appeal filed against a lower courts direction to close down a factory in Tamil Nadu for alleged violation of environment rules. The company says it has employed the most sophisticated environment protection technology.
Sterlite, which fully owns Sterlite Energy and Australian Copper Mines and holds majority stake in Bharat Aluminium and Hindustan Zinc, has substantial market share in these metals. Hindustan Zinc, which has the third largest zinc mine in India, is the countrys largest zinc producer by volume. It is the worlds largest integrated zinc-lead producer and has now 1.06 million tonne a year capacity. The company is now acquiring Anglo Zinc assets in Africa and Ireland at $1.3 billion, which would consolidate its position in the global zinc market further.
Balco, in the meanwhile, is increasing its smelting capacity six fold to 600 kt. Sterlite is going in full swing in power capacity addition as well. Its 2,400 MW power plant in Orissa has commenced operations and another 2,640 MW plant is under construction in Punjab. Here also, the focus is to keep costs low, to the benefit of the ultimate energy consumer. In power, the company has the advantage of coal linkage.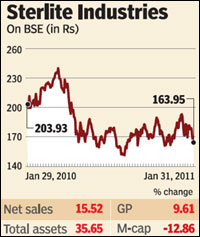 Sterlites parent Vedanta Resources group chairman Anil Agarwal admits that the low cost strategy coupled with superior assets has helped the the company grow fast in recent times. Our structurally low cost position across commodities, excellent liquidity and strong cash flow have positioned us well to deliver in these unprecedented markets, says Agarwal hinting at the global markets that witnessed a commodity boom in 2008-09 and a subsequent moderation in prices. This has enabled us to continue to grow production and invest in our industry-leading growth programme, says Agarwal, who is now venturing into oil and gas business in India, with his proposed $9.6 billion purchase of majority stake in Cairn India. Sterlites Tuticorin smelter and refinery had the lowest cost of production of all copper smelting and refining operations world-wide in 2005.
Sterlite Industries recorded a spectacular jump of 143 fold jump in net profit to Rs 316.38 crore from the Rs 2.19 crore recorded a year ago. Total revenue increased 22% to Rs 4,737.92 crore from the Rs 3,883.08 crore in the corresponding quarter of the preceding year. On a consolidated basis, the company reported a 60% jump in third-quarter net profit to Rs 1,101.06 crore from a year ago.