Q4 revenue up 13% year-on-year to R43.1bn: Net sales grew 13% y-o-y to R43.1bnwe expected R38.2bn. While volume grew 4% y-o-y, blended average realisation rose 9% y-o-y (+13% quarter-on-quarter) to R1,399,909 per vehicle. Higher spare parts sales and sales of defence sets helped boost revenue growth.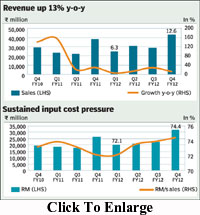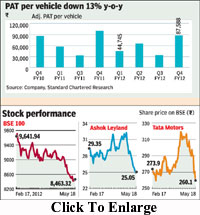 Adjusted Ebitda margin down 200bps y-o-y to 11.2%: Despite strong revenue growth, RM (raw material)/sales ratio was up 230 bps (basis points) y-o-y to 74.4%. Higher input costs were partially offset by lower-than-expected staff cost at 5.7% of net sales on account of lower bonus and actuarial provisioning. Operating margin fell 200 bps y-o-y (+340bps q-o-q) to 11.2% (our est. 10.6%).
Earnings down 14% y-o-y to R2.1bn: The ramp-up at Pantnagar led to a higher depreciation charge of R956m. The lower tax rate of 17.8% boosted earnings. Adjusted for the gain from sale of investments worth R16m, net profit fell 10% y-o-y to R2.7bn.
Conference call highlights
According to the company, it reported muted growth in engines sales to the slow-moving telecom sectorsuch sales declined 7% y-o-y to 16,432 units. Sales of defence sets increased to 2,981 units in FY12 from 2,389 units in FY11. The company sold 352 fully built vehicles against 391 in FY11. Spare parts sales grew 19% y-o-y in FY12 to R8.5bn. Total price hikes in FY12 stands at R45,000 per vehicleabout 4.5%. The company has increased prices by 1.2% in January 2012, passed on the excise hike and raised prices by a about 1% in May. The reduction in staff cost (R550m lower) in the quarter was primarily on account of lower bonus provisioning and actuarial gains.
The exceptional gain in the quarter was R15mthe company has sold its 46% stake in Avia at a loss of R1.45bn to its investment company and has booked a profit of R1.59bn from sale in other investment companies thereby leading to a marginal gain. For FY12, the Southern MHCV market has grown at 5%, West: 18%, North: 2%, Central: 25% while the Eastern market has witnessed a 1.3% fall in volumes.
On account of the substantial slowdown in the southern market led by the mining ban, Ashok Leyland has witnessed a 240bps loss in overall market share. The southern CV market has witnessed a sharp recovery in Q4FY12 growth of 65% y-o-y. The proportion of the southern market to total domestic sales has gone up to 27% from the historic average of 23%. ALL has a 52% market share in Southern India.
Estimates lowered: To factor in the poor operating performance, we lower our FY13e/FY14e earnings by 5% each to R2.9 and R3.5 per share, respectively. The management expects the industry to post muted 5-6% growth in FY13e. However, the company expects to gain back its lost share in FY13 to 25.7%. New models to be introduced in the next fiscal include 10x2 25T, a low floor bus, haulage variants from the U-truck platform, 8T low floor mini-bus and fully built vehicle fitted with cabins sourced from Avia.
Outlook: The company expects margins to improve by 100-150bps y-o-y to 10-10.5% in FY12 led by: (i) higher volume ramp-up from Pantnagar, (ii) the recent price action, and (iii) rationalisation of costs. This would be after factoring in the contract manufacturing arrangement with the Nissan JV. The company expects margins to improve to 11.5%.
Valuation: With a steady recovery in south, we expect ALL to gain back lost market share in FY13e and its operating performance to improve, led by the recent pricing action and ramp-up of the Pantnagar facility. Maintain Outperform with a revised price target of R32valued at 10x (times) Sep-13e earnings.
Standard Chartered