Tata Tea on Friday said its board of directors has given the go-ahead for sub division of shares of Rs 10 each (face value) into 10 shares of Re 1 each.
The move saw the companys shares close at Rs 1054.45, up 3.22%, on the Bombay Stock Exchange on a day when the benchmark Sensex rose 55 points to close at 17,558.71.
The stock split by the company is primarily to facilitate more participation of retail investors in trading. This will also become an attractive proposition for institutional investors like mutual funds.
In a statement to the BSE, Tata Tea said there will be amendments in this regard to the capital clauses to the memorandum and articles of association of the company. The company proposes to seek consent of shareholders for the aforesaid by a postal ballot in accordance with section 192A of the Companies Act, 1956 read with the companies (Passing of the Resolution by Postal Ballot) Rules, 2001, it said.
According to analysts, a stock split takes place when the company wants to boost liquidity. In case of Tata Tea, the split ratio is 1:10. The current price of the share also gets divided by 10. Hence, the number of outstanding shares and price of the share changes.
The company may see long-term returns and share price appreciation with the stock split due to signaling effect, added analysts.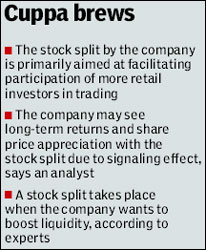 The announcement and execution of a stock split is viewed by investors as a positive signal about the prospects of a firm, since it is often followed by higher earnings per share and cash dividends. Since stock splits often occur after a stock gains value, it can be interpreted as a sign of the company's growth, the analyst added.
Recently, Tata Tea signed a preliminary agreement with beverages major PepsiCo to explore a joint venture in the non-carbonated beverages market, focusing on health and enhanced wellness.
It was necessitated by lacklustre growth in demand of its core business tea, which posted under 1% growth every year between 2003 and 2008.