The passage of the US healthcare reform Bill offers a new window to the $60-billion Indian IT services and back office support industry but experts are calling for a cautious approach when it comes to tapping the opportunities in the sector.
Companies in the domain of health insurance, knowledge process outsourcing (KPO) and analytics related work are expected to benefit. Top executives in the IT sector feel it is important to have sufficient capability to leverage this opportunity, while ensuring that quality of support does not drop as had happened in the past.
Infosys Technologies CEO S Gopalakrishnan said, The need to create electronic healthcare records will create great opportunities for the sector. But the capacity to leverage this will vary from company to company. Commenting on the preparedness of the Indian IT services sector to cash in on the opportunity, he said, Healthcare is a sector which is under penetrated by the Indian IT services industry. But if you dont have the capability it will have to be created. In the US, there are a lot of litigation cases related to healthcare, creating huge opportunities for the KPOs. But India will have to withstand stiff challenges emerging from outsourcing destinations such as Vietnam and Philippines.
While the IT related insurance market opportunity in US stands between $25-30 billion according to the market estimates, it remains to be seen what fraction of this can be won over by Indian firms. Not every IT firm will be able to gain from this though, experts said. Infosys, Indian arm of IBM and TCS will benefit from this reform as they work in the US healthcare related modules and have a robust clientele in this segment, said Satish Menon, associate VP (corporate finance healthcare advisory), KPMG.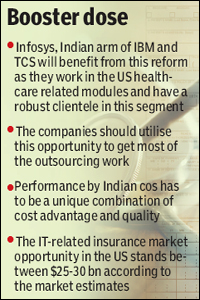 However, he added that quality will be a big challenge for the Indian BPO companies. It has to be a unique combination of cost advantage and quality. They have to stand the quality benchmark. We already have a good combination of manpower and skill, which will give us an upper hand over other countries. But the companies need to concentrate on core processes, said Menon.
Industry experts feel the healthcare reform Bill offering insurance coverage to 32 million additional Americans by 2019 will lead to huge influx of work into the Indian outsourcing sector.
Gartner India principal research analyst Diptarup Chakraborty said, There will be a paradigm shift in the healthcare sector in the US. The companies should utilise this opportunity to get most of the outsourcing work, especially in the fields of medical transcription, insurance and claim processing domain. But the reforms will take time to get implemented and its hard to predict how fast it will go. S Nagarajan, founder of BPO firm 24/7 Customer, said while the workflow into India will increase on account of this, it remains to be seen whether this opportunity would be converted by the Indian forms. We will have to wait and watch, he added. Cognizant Technologies senior vice-president (Healthcare Practice) K Vinayambika said healthcare companies will increasingly embrace global sourcing and will engage with vendors who have sound fundamentals.