Last week's hailstorm in many parts of Himachal Pradesh has damaged apple crop in large tracts of land. According to input received from apple growers, scientists and horticulture officials, the hail storm not only damaged fruit but also apple tree leaves and spur.
Over 50% of apple bloom has been destroyed in the lower apple belts where intermittent rains and hailstorm washed the pollens of the flowers which are essential for a good crop. The main varieties of apple that have suffered heavy losses are Royal Delicious and Red Royal. Apple arrivals usually start in August and peak around November.
The hail storm during the last week was so devastating that a large number of apple trees were destroyed while apples have got stain marks on them. Almost 50 to 70% of apple crop has got damaged, AK Gupta, the state's deputy director horticulture told FE.
SP Katyal, general secretary of the Himachal Fruit and Vegetable Growers Association (HFVGA) said that over 50% of apple bloom in Mandi, Kullu and Shimla districts which account for 70% of total apple crop in the hill state has been damaged.
He said the state has around 19.7 million ha under fruit cultivation of which apple accounts for around 48%. The HFVGA has submitted a memorandum to state chief minister Prem Kumar Dhumal demanding compensation for the damage.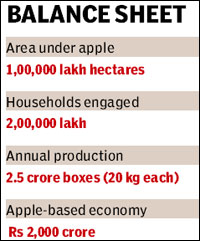 In Himachal Pradesh, over two lakh households spread over five districts are engaged in growing apples that churn out an annual turnover of around Rs 2,000 crore. About 1,00,000 hectares of land in districts like Shimla, Kullu, Kinnaur, Mandi and Chamba are under apple crop. Fruit growers say that not only apple but also apricot, almonds crop that had been affected in the state in view of hailstorm.