The Central Board of Trustees (CBT) of the Employees Provident Fund Organisation (EPFO) has recommended an 8.5% interest rate for its subscribers for 2012-13, slightly higher than the 8.25% last year, labour minister Mallikarjun Kharge said on Monday.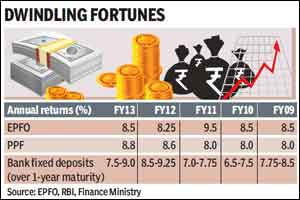 The EPFO will be left with a small surplus of about R4 crore after paying this interest. The EPFO also decided to invest in AA or AAA-rated bonds of companies having a net worth of at least R3,000 crore and a 15% dividend paying track record in the last 5 years, Central Provident Fund Commissioner Anil Swarup told reporters.
The CBT also relaxed the investment rules to allow EPFO invest in corporate bonds of up to 25-year maturity from the present 15 years, he said. Though the recommended rate of 8.5% is a tad higher than 8.25% interest offered last year, it is less than that offered in PPF or bank fixed deposit rates.
While the EPF rates were cut from 9.5% in 2010-11 to 8.25% in 2011-12, the PPF rates for 2012-13 was raised to 8.8% from 8.6% in 2011-12 and fixed deposit rates of major banks for more than 1-year maturity hovered between 7.5-9.25%. The fixed deposit rates of smaller banks were close to 10% in the past two years. At present, EPFO is allowed to invest in bonds of PSUs and select private financial institutions such as ICICI Bank, Axis Bank and HDFC Bank.
Crisil, which was appointed to advise the EPFO on corporate bonds, has said that none of the AAA corporate bonds have defaulted on repayment and hence can be regarded as a safe investment.
EPFO manages over R4.66 lakh crore of long-term savings of over 4.5 crore subscribers under three schemes employees provident fund, employees pension scheme and employees deposit linked insurance.
Usually, EPFO announces interest rate at the beginning of the year, but there has been a delay this time. Trade unions have been pressing for an early meeting of the CBT to decide on the interest rate for the current fiscal.