More than half of foreign currency convertible bonds (FCCBs) issued by 23 Indian companies maturing between October 16, 2012, and March 23, 2013, are expected to either be restructured or go into outright default, India Ratings and Research said in its report.
It expects 67% of the outstanding dues of $1.5 billion belonging to 17 companies are unlikely to be redeemed on time. India Ratings and Research is a subsidiary of Fitch Ratings.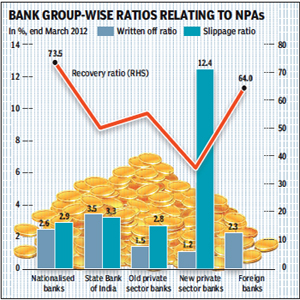 Of the 17 companies, Ankur Drugs & Pharma, Vardhman Polytex, Wanbury, GV Films, Aksh Optifibre, Sancia Global Infraprojects and Easun Reyrolle have the highest likelihood to default, the report said.
Meanwhile, Bartronics India, Firstsource Solutions, Kinetic Engineering, South Asian Petrochem, Websol Energy System, Plethico Pharmaceuticals and Shree Ashtvinyak Cine Vision will likely restructure their FCCBs.
FCCBs are bonds that can be converted into equity at maturity. If the share price of the issuer has fallen since, the investor has the right to ask for redemption of the bonds in cash. FCCBs carry almost no or low interest, with investors hoping to gain from an appreciation in share prices.
India Ratings also said 66.5% of FCCBs issued by 45 companies that matured between March 1, 2012, and October 16, 2012, were redeemed on time. It said this was slightly lower than its expectation as the macro-economic environment affected the liquidity and funding access of several companies. The debt servicing ability of some companies were also affected as the rupee depreciated from R49 to the range of R54 to R56, between March and October.
Of the 19 companies that redeemed the outstanding FCCBs on time, only five companies used internal accruals, the rest used fresh funds through loans, the report said.
Between March and October 16, about 26 companies defaulted on FCCBs. Of these 26 companies, three subsequently redeemed their outstanding FCCBs through cash. These three companies were Suzlon Energy, KSL and Industries and Hotel LeelaVenture.