ICICI Bank-backed IT firm 3i Infotech has withdrawn its bid to set up 11,500 common service centres (CSC) giving a blow to the government's ambitious plan of setting up a network of 1,00,000 CSCs across the country. The CSCs are part of the Rs 23,000-crore national e-governance plan (NeGP) which was announced in the UPA's first tenure and was conceptualised for providing government and private services in the hinterland through e-enabled kiosks.
Not just 3i Infotech (which was allocated the second highest number of CSCs after the West Bengal-based SREI group), Comat Technologies, which was supposed to set up around 6,000 CSCs has also pulled out of the venture. According to data collected by FE, around one-fourth of the 1 lakh CSCs have either been terminated, shut-down, withdrawn or not bid for. Another 5,000 CSCs have not received any interest from private players so far.
As reported by FE earlier, several of the CSCs are finding it difficult to sustain themselves for lack of available government service that can be delivered online along with tepid interest from private players in many far-flung areas of the country.
Already beset with huge delaysthe original target for rolling out CSCs was March 2008the exit of major players like 3i Infotech and Comat Technologies has further pushed the deadline for the complete rollout from June 2010 to the end of this year.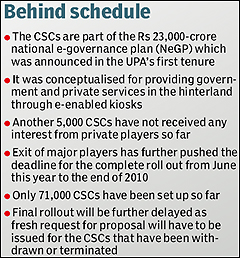 According to a department of IT official, 3i Infotech had continuously failed to meet the roll out deadlines. "After being pulled up several times by the department, it has finally withdrawn from the venture. Similar is the case with Comat Technologies, which was supposed to set up around 6,000 CSCs," said the official. 3i Infotech refused to comment on the story.
FE was the first to report that company's such as Reliance Communications along with 3i Infotech are under the ministry's scanner for shutting some of their centres and are facing penalties for contractual deviations.
In fact, 3i Infotech's executive director & president (South Asia), Anirudh Prabhakaran said then (in June 2009) that the firm has 6,000 operational CSCs and the rest will come up by December 2009.
So far only around 71,000 CSCs have been set up and the ministry official said that the final roll-out will be further delayed as fresh RFPs (Request for Proposal) will have to be issued for the CSCs that have been withdrawn or terminated.
The official also said that one of the biggest reasons for failure of some centres is that companies were too aggressive in bidding. Moreover, the global economic crisis also put a huge spanner in the plans.