Sukhbir Singh Badal, deputy chief minister of Punjab and president of the Shiromani Akali Dal (Badal), was at the Express Group for an Idea Exchange. In this session moderated by Assistant Editor Maneesh Chhibber, The Indian Express, Badal speaks about reforms in the state, vendetta politics and estranged cousin Manpreet Badal
Maneesh Chhibber: State elections are due next year in Punjab, can you tell us what your achievements are in this term
We formed the government four years ago. We were very focused, we wanted to remove the weaknesses and strengthen the positive aspects of our state. Our weaknesses are that we are a landlocked state, surrounded by Pakistan and the troubled state of J&K. Also, other states around us receive incentives from the centre. We are an island nobody wants to come to. So we have focused on ways to attract people to our state, and hence, reduce our weaknesses. A landlocked state can develop only if its connected with a port. During my fathers last term as CM, we got Amritsar International Airport operational. This time, we got Mohali International Airport cleared, and another at Machhiwara in a joint venture with Singapore Airlines. We got Bathinda airport cleared, and flights from Pathankot and Ludhiana became operational. Punjab is now among the most well-connected states in the country.
Our second weakness was power shortage. Punjabs production capacity was 5,000 MW and the demand was 9,000 MW. In the last four years, we have added over 10,000 MW. The third step was to link all our major cities with a road network. We cleared major projects and within two years, all major towns will be connected with four-lane roads. On irrigation, we have spent over Rs 2,000 crore. Today, there is large-scale investment in infrastructure, which is showing results and attracting more investment.
Vandita Mishra: Reforms that your government has spoken ofadministrative, power, e-governance, etc., have not been implemented. Can you implement them before the elections
My purpose of reforms is not elections. If I say my aim is to make Punjab power surplus, people will talk about power cuts. But people who had coolers now have ACs, those who had ACs now have centrally air-conditioned plants. To make a power plant functional, you need at least seven years. For 2,600 MW, you need to acquire 2,600 acres, you need water and coal linkages, environmental clearancethis process takes three to four years. We began reforms, but something which has happened for 65 years cannot suddenly change. To ensure land reforms, you need to computerise all land records. By March 31, we will have computerised land records. Half of the state is already online. We are cutting 15-20-year-long litigations to two to three years. If you want to register your land, when you go to a tehsildar, he will say the value of land is Rs 100 crore, you will say, no its Rs 500 crore. In the process, he will make money. We have done away with this.
Maneesh ChhiBber: Punjab has among the better land acquisition policies in the country. How did you go about it
In the last four years, we have acquired around 10,000 acres, but you would not have heard even the slightest protest. Land is a poor mans only asset. Even top industrialists want free land, they want to acquire land from poor farmers. In our state, the farmer comes first. Our deputy commissioners, a committee of local MLAs and sarpanchs decide the market value. Besides, we give 30% of the value to the farmers as dislocation allowance. We also give some percentage to prevent litigation. Now, the farmers are after us to acquire their land.
Maneesh ChhiBber: Has Punjab seen the last of vendetta politics There is talk that Captain Amarinder Singh and you have patched up
There is nothing called a patch-up. I dont believe in vendetta politics. Its up to him. We are not into vendetta.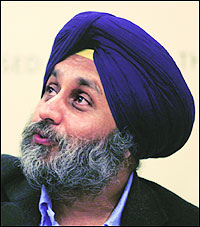 Vandita Mishra: In Punjab, politics becoming a family business is more pronounced than in other states, both with Congress and Shiromani Akali Dal (SAD). But SAD had a democratic history of leadership. Your leaders came from block, tehsil levels and district leaders. Why has that stopped
First of all, family politics is a worldwide phenomenon. Its in the US toothe Clintons, Bush, etc. Its not family; its democracy. You have a right to choose your leader. Nobody is forcing you. People trust a brandwhy do you buy branded equipments A family name gets you selected once, that is the one-time advantage.
The disadvantage of a family is that you are compared with your father. If he has stature, then every move of yours will be compared. Second, my father did not project me. On many occasions, when I was leading the youth wing, he would not let me speak on the stagehed cut off my name thinking he would be accused of promoting his son. But I led from the front and won elections, then they appreciated my work.
Ruchika Talwar: You became Akali Dal president at a very young age, compared to your predecessors like Baba Kharak Singh, Fateh Singh, Master Tara Singh and even your father. They became president after years of hard work and sacrifices. How are people taking to a much younger president
Times have changed. Today, we are the youngest population in the world. Younger people have come into the political arena. Consider the age of President Obama. All over the world, politicians are young. Why is Congress projecting Rahul Gandhi Why has Congress inducted young faces into ministries Because the public has changed. Its not traditional politics anymore.
Pradeep Kaushal: You have been advocating a change in the current system of revenue sharing between the centre and the state. Do your coalition partners, BJP and JD(U), agree
On many occasions, we have jointly put forward our case in the state. Its unfortunate that the states which contribute the maximum get the least, the states which contribute nothing get the maximum. This is based on the old formula of population. They dont realise that Punjab is the biggest provider of food to the nation and the world. We provide 60-65% of the wheat, 55% of the rice requirements of the country. If we stopped producing wheat, the government would have to import wheat to feed 1.2 billion people and the world economy would collapse. Its like oil. If there is an unrest in Egypt, oil prices go up. The same thing would happen to food if something happens to Punjab. The government of India does not realise this. They are not supporting us in terms of infrastructure. We asked them for support to revamp our irrigation system. Our water table has gone down so drastically that in another 20 years, it would become a desert. We asked for Rs 3,000 crore, but they are not interested.
Unni Rajen Shanker: You talked about the brand Badal that people trust. Can Manpreet Badal claim that brand What impact has his exit had on the party
Its up to the people to decide. Its a level playing field for everybody. If you take out a drop from the ocean, what happens Do you feel it
Ruchika Talwar: Where is Manpreet going now
Let the people decide. We are performers, like in a movie. The audience has to decide. A party is stronger than individuals. If Sukhbir Singh Badal leaves the Akali Dal, the party will not be finished, I will be finished.
Vandita Mishra: Parkash Singh Badal lends his stature to Akali Dal politics. When he no longer plays an active role, where will your main challenge liefrom Manpreet, or the Congress
There are so many so-called Akali Dals and other parties that have mushroomed, but the fight is always between Akali Dal and Congress.
Ravish Tiwari: Punjab farmers have taken up Bt cotton cultivation in a big way; they have also taken up Bt brinjal cultivation. What is your view on Bt brinjal On contract farming, some big houses have started collecting farmer groups to lease the land for a particular time period without taking ownership. Is there a sustainable model that can be replicated at national level
Bt cotton has had very positive results in Punjab, the yield has gone up. But Bt brinjal is a vegetable, an edible product. You do not eat cotton. I cannot comment on it. As for cooperative farming, it was not successful because the farmer felt that when the company took over their land, the cultivator becomes more or less an owner. And the farmer became scared to lease out the land. Our government has taken a decision that companies can take land on lease for contract farming, but the right of ownership will never go to them. The farmer has benefited because he has a sense of security now.
Sunny Verma: Punjab is facing a massive debt crisis. MP and Gujarat attract huge investments. You are also challenged by huge tax concessions offered by neighbouring states. How do you plan to attract industry
The debt of UP is Rs 2 lakh crore. Madhya Pradeshs is Rs 1.36 lakh crore, West Bengals is Rs 1.26 lakh crore. Gujarats is over Rs 1 lakh crore. We are ninth among all the states. When we took over, our debt to GDP ratio was 42%. It has come down to 32% in the last four years. Whoever expands has to expand with debt. If you dont borrow, there will be negative debt. Punjab has never defaulted on a single payment. We increased our revenues. When we took over, our main revenue sources were VAT and excise. VAT was Rs 5,000 crore. Today, we are crossing Rs 11,000 crore. Next year, we will close at over Rs 14,000 crore. While the world suffered a recession, in the last three years, Punjab has grown. This year, our VAT revenue is growing at 35%, the highest in India. During the last Congress regime, the increase in excise revenue went from Rs 1,300 crore to Rs 1,500 crore. We have taken it to Rs 3,200 crore. Our debt ratio has come down. Every state borrows money. You get it to develop your state.
M K Venu: Do you believe in Pranab Mukherjees promise that if you adopt GST, your revenues will increase.
These are Congresss promises. They promised us Chandigarh, but they never gave it to us. These are flowery things said in Parliament, but they never happen. They wanted certain taxes, infrastructure tax. They wanted to take away things from state subjects. VAT doesnt mean an increase in revenue. VAT revenue differs from state to state. States which are able to implement their system well will be able to increase revenues.
Shekhar Gupta: But subsequently all states have introduced VAT and increased revenue.
Today, things are improving. Technology is changing. Old accounting techniques have changed. States are forced to implement it. We have been able to generate lot of money due to corrective measures we have taken.
Harcharan Singh: As state finance minister, Manpreet Badal last year told the assembly that 72.9% of Punjab revenue goes towards servicing of debt, pensions and administrative expenses to staff. Only 28% revenue is left with the state. This year you have increased VAT. Is there enough to meet the pace of development you have in mind
Do you know why it was 72% The Pay Commission report caused an increase in salaries by Rs 3,000 crore a year. For a small state, that shakes you up. But we were able to sustain it. We are among the few states to implement it and give arrears of Rs 7,000 crore to employees because we had the capacity to absorb it.
Sunny Verma: My question remains unanswered. How do you attract industry
High debt has nothing to do with attracting industry. I dont think our debt is high. The disadvantage is that J&K, Uttarakhand and Himachal Pradesh get concessions. Fortunately, the concessions are over and now we have breathing space. Those industries that dismantled factories and took them to Himachal Pradesh, now want to return to Punjab because the infrastructure and the work culture there is not as good as Punjabs.
Maneesh Chhibber: What are the big issues in the next elections Capt Amarinder is already talking of being the next CM.
This is a typical speech we give on the stage, else people will run away. In politics, even if you are losing, you have to say you are winning. But if you look at elections in Punjab, the Akali Dal has a base, the Congress has its own base and over the years people have judged between them. With the response we are getting, I feel very comfortable. When you are in your fourth year, people are not enthusiastic for your rallies. But they are very enthusiastic at the rallies I attend.
Vandita Mishra: What about your ally, the BJP
We are in no conflict with them. We have a ratio of seats. They maintain their areas and we maintain ours.
ShefalEE Vasudev: We constantly see Punjabiyat around us. Movies like Band Baja Baraat, Rab Ne Bana Di Jodi, the fictional Punjabi, have become very popular. Is the fictional Punjabi influencing India, or is it the real Punjabi
I spoke to actor Akshay Kumar on the same subject. He had the premiere of Patiala House in Punjab. Its a lucky sign for them, as the movies are hitsthats what he told me. Punjabi songs have become very popular abroad. I went to Japan on a parliamentary delegation. We went looking for an Indian restaurant, and we heard Punjabi music from a restaurant. There was a bar and the Japanese were dancing to Punjabi music. They said they liked the beat.
Vandita Mishra: The Deras in Punjab attract Dalit Sikhs and Jat Sikhs oppose it. Given that Akali politics is mostly Jat-dominated, do you see the need for addressing the issue politically
Sikh religion never advocates the difference. For us, every human is equal. That is the philosophy of the religion. The Akali Dal never gets into this, its only the Congress that plays the card of divide-and-rule.
For the longer version, visit www.indianexpress.com