IT services and business process outsourcing firm Tech Mahindra is planning expansion of its operations in the West Asia and Africa, as telecom operators in these regions are keen on providing additional services as well as saving costs. Tech Mahindra has already been working with telecom providers like Etisalat, Qtel, Zain and MTN in this region and expects a surge in contracts, as the telcos now tend to focus on services like revenue assurance, data analytics and managed services. The firm is expected to bag a $10-million deal with MTN for west Africa, according to sources.
Krishna Gopal, vice-president of sales (the Middle East, Africa and Saarc), said, We are constantly looking at expanding our scope of work with the existing clients and could see certain contracts flowing in from Africa.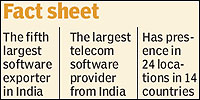 According to Gopal, most greenfield operators that have launched their services in the last two to three years in the West Asia are keen on saving costs, as they paid high licence fees to enter these markets. Telecom operator Zain had paid a license fee of $6.1 billion for third GSM/3G in 2007 to get an entry in Saudi Arabia. This was almost twice the price paid by Etisalat for the second mobile licence ($3.45 billion) in 2004. The greenfield kind of contracts are now tapering off as priorities are changing for the telecom operators in this region, Gopal said. We are, therefore, looking forward to a number of contracts that focus on revenue assurance, data analytics and managed services in the Middle East. Each of these contracts could be in the range of about $ 50-60 million per year.
They are sticky deals for multiple years spread across multiple countries, said Gopal.
According to Gopal, the Middle East region offers contracts at premium pricing compared to the Indian market, as costs of delivering services are higher in this region. "Even though the pricing is high, it has to be cost effective to deliver the services. So this is mainly done by bringing in shared services across several operators," added Gopal.
Currently, the Middle East, Africa, India and other emerging regions contribute to about 14% of Tech Mahindra's business. The firm has been shifting its focus towards gaining market share from outside the UK market, which contributes almost 56% of revenues.